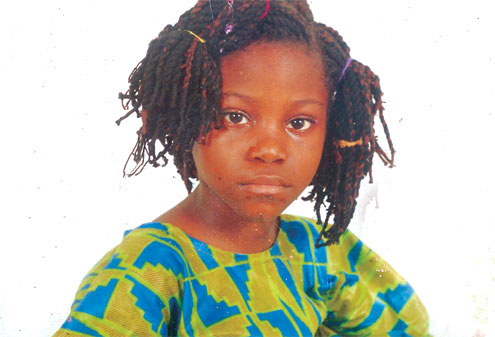 A 35-year old nurse, Mrs. Idowu Comfort Adeoye, is currently being detained over the death of a 10-year old primary 5 pupil.
The suspect, also called Iya Emma, owns a chemist shop at 14, Momodu Street, opposite NYSC camp, Iyana-Ipaja, in front of the building where the deceased's mother resides.
The deceased, Esther Lawrence, was a primary 5 pupil of Alegba Primary School, Agege, Lagos.
She was said to have fallen sick on Thursday last week and the nurse was called in to examine her.
She, however, injected her twice and she died later .
According to the deceased's mother, Mrs. Victoria Lawrence, a staff at Blue Cross Hospital, Ogba, "she went to school on Thursday and on Friday she had fever and as I wanted to take her to the General Hospital, my neighbour suggested that I call the nurse who owns a chemist shop.
"After the first injection, she tried to give her the second and the girl convulsed and the nurse gave her another injection."
Before the anti-malaria injection was administered, the girl's mother said the deceased had become very weak because she could not eat. She added that the girl had to drink a bottle of soft drink before she took the injection.
According to her, after the second injection was administered "suddenly, my daughter became cold and I gave her tea, yet there was no improvement.
"So, I ran to the nurse and told her to come and see my baby and she said she needed a drip of N1000. When she saw my baby in bad shape she said 'I cannot treat this your daughter again, take her to the hospital.'
"When we took her to Popoola Hospital, the doctor on duty rejected her and she eventually died. We later took her back, then the nurse had closed her shop and disappeared.
"This my baby was brilliant and I was looking forward to seeing her become great in life. I struggled to see that she does not miss her school so that her father's family would not say I refused to give her good education because of her father's death."
The girl's corpse has been deposited at the Isolo General Hospital while the suspect is being held at Dopemu Police Division for further investigation.
Police sources said the nurse was arrested and is still being interrogated and may be charged with murder.
—Oluwole  Adeboye
Load more