An American gay movie which was supposed to premiere last Friday at the Silverbird Cinemas in Lagos, South West Nigeria, was stopped from being shown by the National Film and Video Censors Board, NFVCB, regulators of the film and video industry in the country.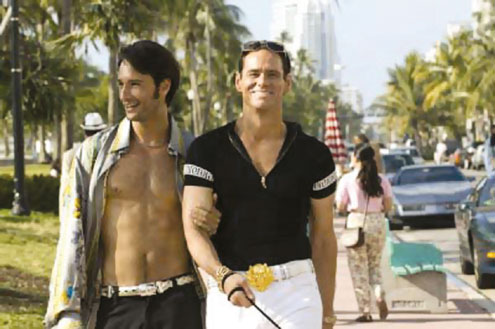 The movie, I Love You Phillip Morris, which stars U.S. top actor, Jim Carrey, was postponed four times in the United States before it was finally released in May 2010, two years after it was filmed.
In the semi-gay movie described as obnoxious by European audience, Jim Carrey plays a gay con man who falls in love with his prison cellmate, Ewan McGregor.
P.M.NEWS observed last Friday that I Love You Phillip Morris was already listed by Silverbird Cinemas and was to be shown in the afternoon when it was suddenly cancelled.
An enraged movie-goer who had come to the Silverbird Galleria in Victoria Island to watch the gay movie was seen yelling at the Silverbird staff who could not explain why the movie was suddenly withdrawn.
"Is it because it is about homosexuality?" he asked, adding "you should remove it from your website then."
The Censors Board's Zonal Director in the South West, Mr. Edward Edion, who spoke with P.M.NEWS on phone yesterday, confirmed the story but denied reports that the movie was banned outright.
According to him, the movie was stopped from being shown last Friday because it had not been properly classified.
"During our screening, we discovered that there was a scene that had to do with homosexuality and as such it was not okay for every member of the public to watch it. That was why we stopped the movie from being shown to enable us reclassify it.
"After its proper classification and with the final decision by our headquarters in Abuja, we'll know the next step to take," he said.
Edion, however, disclosed that the previews of the movie were allowed on air because of a special concession given to movie distributors such as Silverbird, Ozone and few others.
He said: "Nigeria is suffering today because movies are made mainly as home videos while the money, all over the world, is in the theatres. That is why we are encouraging even the local movie producers to take their movies to the theatres."
Written by Bad Santa screenwriters Glenn Ficarra and John Requa, the film is a dark comedy based on the true story of Steven Jay Russell (Carrey) who gets sent to prison for insurance fraud, and subsequently falls in love with his cellmate (McGregor).
The movie was first released in Europe and Taiwan. With straight actors playing gay roles being such a trend, the film struggled for years to find its place in U.S. theatres.  The movie was to be released in the U.S. by Consolidated Pictures Group. It was filmed in 2008 and was screened at Sundance Film Festival on 18 January 2009.
The following countries and cities have already released the movie: France, Monaco, Russia, Taiwan, Belgium, Luxembourg, Finland, Sweden, Estonia, Latvia, Lithuania, Kazakhstan, Japan, United Kingdom, Ireland, Philippines, Czech Republic, Romania, Iceland, Italy and recently it premiered in Norway.
—Simon Ateba
Load more