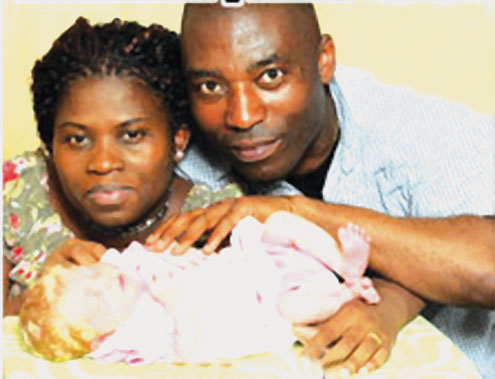 A Nigerian medical doctor, Dr. Olufemi Ogundipe,  based in California, United States has thrown some light on the white baby delivered to a Nigerian couple. In an e-mail to one of the senior editors of P.M. NEWS, he said the birth '' may not be a miracle and neither of the couple need  "have strayed" or "have fallen off" the wagon'.
'' What is needed to prove what could have happened is the genome analyses of the child, and each of
the parents.
''World-renowned medical geneticist and current NIH director, Francis S.Collins in his most recent book, The Language of
Life . DNA and the Revolution In Personalized Medicine who gave an account of an American man who looked black and suffered all the usual indignities suffered by  a black man in his community turned out after genomic analysis to have no black ancestry.
''Furthermore the story about 2-3 years ago when American John D, Watson ,{ co-winner with British Francis Crick of Medicine Nobel Prize for their work on the double helix structure of DNA} created a firestorm when he pontificated on the inferiority of black people. To his own chagrin, his own genome analysis done some 3 weeks later showed that genetically he was a black man. Some food for thought there!  The landmark human genome analysis will in addition to advancing the frontiers of Medicine will unearth many inconvenient truths about race. Welcome to the 21st century.''
Load more