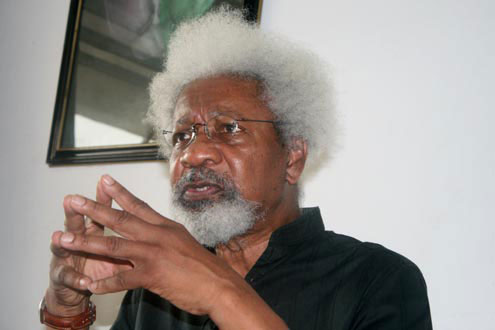 Nobel Laureate, Prof. Wole Soyinka said he formed a new political party, the Democratic Front for People Federation, DFPF so that the progressives could rally together to dethrone the ruling People's Democratic Party, PDP.
Soyinka officially launched the party at his 76th birthday lecture yesterday in Lagos, Nigeria, saying that those who felt they were in the wrong party could come forward to join the new political party as it strategises for next year's elections.
According to him, the party would represent a vehicle of collaboration for progressive forces, adding that the party would hold its first convention on 25 September, 2010.
The Nobel laureate had lamented that the Independent National Electoral Commission, INEC under former Chairman, Professor Maurice Iwu had frustrated his earlier efforts to get the party registered during the last elections.
"Iwu probably acting on the instructions of his employers frustrated and denied the party recognition over the years, but today it is a reality," Soyinka stated.
"The party is strictly for those who have nowhere to lay their heads, those who have discovered that they are in the wrong political party, progressives in political parties including those in the People's Democratic Party who have the zest for positive
service," he added.
Soyinka said the party would provide a viable political platform for its members, adding that despite opposition, the party had come to stay, saying that a group of people had been working together in the last few years to set up the party.
At the event, former Chairman, Economic and Financial Crimes Commission, Mallam Nuhu Ribadu urged Nigerian youths to rise to the challenges of national rebirth.
In his lecture titled, Nigeria at 50: Crises of a Nation, Ribadu called on Nigerian youths to rise to the challenges of national rebirth, saying the Nigerian project is not a lost cause.
According to him, though Nigeria had missed the mark on many scores in terms of nation building, it was not too late to redirect the course, adding that many nations that had reached the brink of rupture and disintegration "have been able to survive on account of dogged will for collective redemption and with the opportunity of an imaginative leadership."
Citing Tanzania and Somalia as examples of nations with ethnic and religious diversity on one hand, ethnic and religious homogeneity on the other, the former EFCC boss said while Tanzania, with ethnic and religious diversity, had remained the most stable and peaceful land in the region, Somalia, in spite of its homogeneity in ethnic and religious experience, "has become the foster child of the very example of a veritable failed and rogue state."
"At this proper beacon of a jubilee anniversary, I want to strongly challenge fellow compatriots in this hall and outside it, to make a pledge of honour on how to give our federal experiment and our democracy a makeover that is mediated by equity, rule of law and transparent sense of justice, and above all, a sincere commitment to build a modern multicultural Nigeria," Ribadu said.
He lamented that "the boundless energies of our people, the enviable spirit of our youth and the lush resources of our environment all lay in waste and abuse, increasing our embarrassment to see what we are offering the nation, the continent and humanity as the product of labour from the largest black nation on the planet."
"A nation that produced the likes of Chinua Achebe, Oladele Awojobi, Chike Obi, Bala Usman, Fela Anikulapo-Kuti and Murtala Mohammed cannot agonize for lack of models. A nation that also threw up the examples of Ngozi Okonjo-Iweala, Oby Ezekwesili, Sefi Atta and Adichie Chimamanda cannot be said to be deficient in super-brands. Above all, however, the nation that produced the towering presence of Wole Soyinka will lose a rational argument if it pleads the absence of heroes as the basis of failure of Africa's largest state," he said.
According to him, "if a new vision is not allowed to take over our political space, 50 years of our federalism and less of our democracy pose the challenge of what can be an endless rite of passage."
He added that in order to avert this danger, young Nigerians must take the responsibility and accountability for leadership of the country from now on.
"From industry, through civil society to the world of research and development, towards the important crucible of leadership, politics and management of development, I call on fellow young Nigerians today to bury the preoccupation with anger, cynicism and inertia and move in the direction of taking control of the destiny of our nation," he said.
"I feel a great sense of optimism in spite of the obstacles. That is the power of youth. This nation has had its great and low moments, but that is true of all lands in the world. The energy to draw now from those great moments are embedded in our youth, it is demonstrated in the feat we accomplish when we do great deeds and score remarkable goals at home and abroad," added Ribadu.
Commending Professor Wole Soyinka for his contributions to the political advancement of the nation, Ribadu declared, "Few men in our history epitomise that sense of investment to community than Professor Soyinka. His life work, either as an artiste or public intellectual or even community activist, has been defined by untainted sense of integrity, selflessness and excellence.
"I call on all here today, and the younger generation in particular, to thank him for all he has done for our country and for always being our conscience and missioner for truth and justice, but for which he has suffered exile, death threats and wanton abuse. Here, truly, is one god that made a pantheon."
Ribadu also disclosed that not less than $15billion (N2.2 trillion) was recovered from the foreign accounts of public office holders in 2006, adding also that over $10 billion (N1.5 trillion) was moved out of the country into foreign accounts in 2005 immediately after federal allocation was shared among the states.
He said that the money recovered during his time as the EFCC boss was used in the bank recapitalisation exercise in 2006 as well as boost the capital market in the country, including the banking sector.
President, National Association of Seadogs, Mr. Emmanuel Bassey said the celebration of Soyinka by the association was not only because of his 1986 Nobel Prize in Literature, "but especially for his life long struggle for justice and peace."
"Behind his works, through his words and beyond them, he has constructed for over half a century a carapace of scrutiny of the machinery of governance. He has done this so often at great personal risk," he said.
—Kazeem Ugbodaga
Load more