This year  will surely go into  history as one of the best years (if not the best), for the first civilian governor of Lagos State, Nigeria, Alhaji Lateef Kayode Jakande, LKJ, popularly called Baba kekere whose administration's achievements remain evergreen.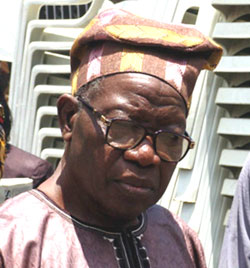 The veteran journalist turned politician who will be 81 years tomorrow 23 July, 2010 perhaps got his best birthday gift yesterday as he was honoured with the National Merit Award of the Commander of the Order of Niger, CON.
Alhaji Jakande known as John West in his hey day in journalism, eradicated the three-shift educational system in Lagos when he was elected the first executive governor of the state in 1979 and also brought accommodation succour to several thousands of people with the now famous Jakande estates.
Before now, the octogenarian had taken a political recess (or can it be called retirement), due to his  indictment for accepting to serve under the late Sanni Abacha-led junta. Time they say, heals wounds, so today, Baba Jacko stands out as a political legend.
As if being compensated for the criticism of the past, LKJ had series of honours  bestowed on him in quick successions. On 15 May, 2010, the Nigeria Union of Journalists, NUJ, Lagos Council renamed the NUJ lighthouse, Victoria Island after him.
In June, the Lagos State House of Assembly honoured the elder statesman with a pioneering award for the past governors who have excelled, so he bagged the 'Legislative Lifetime Outstanding Performance Award, LLOPA. The award was personally presented to him by the Speaker, Hon. Adeyemi Ikuforiji in the presence of his political associates and students.
Load more