National Super Middleweight champion, Mojeed Okedara, with eight wins and five losses, in this interview with ADEBOBOLA ALAWODE, said after ruling Nigeria, he is ready to storm the world with a bang.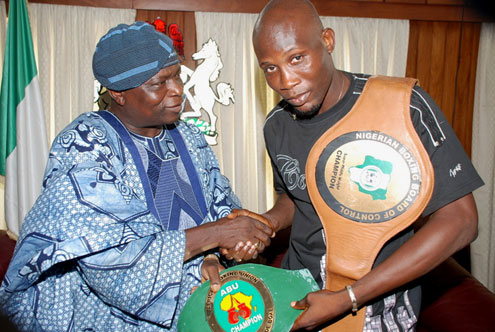 Since you emerged as the National champion, where have you been?
As a matter of fact, immediately after I became the national champion, I went on a training tour in the United Kingdom.
What was your experience?
I met so many people including boxers from different parts of the world. I ran into  Saheed Osupa in Manchester, he came to the gym, where I went for training. When he saw me in training he promised to build a gymnasium in Ikorodu, Lagos State, Nigeria where boxers can train.
Have you met him since you came back to the country?
No, I've not  seen him.
What have you been doing?
On my return to the country I went to see the Osun State Governor, Olagunsoye Oyinlola to show him the titles I have won and seek for his assistance concerning my  career.
What did he tell you as an illustrious son of the state?
The governor told me not relent in my efforts to make the state and Nigeria proud and promised to give me N1million.
But this cannot be achieved without the support of Hon. Lere Oyewole, the Chairman of Irewole LGA; Alhaji Kazeem Adio, Secretary to the state government; Prince Dauda Abimbola, the Public Relations Officer of Osun State Sports Council; Peter Adediji, General Manager of the sports council and Ademola Adeyemo, the Chief of Staff, who facilitated my visit.
13 fights: Eight wins and five loses, that is your scorecard, so what next?
It is still far. With the way things are going I want to give God the glory for helping me thus far. It is not easy because we don't have fights regularly.
Don't you think the number of your fights is still low, considering the fact that some of your contemporaries have more fights?
It is true that some of my contemporaries have more fights than i, but the problem lies with the administrators of the game. If we have fights regularly we will all be happy, but when there are no fights there is nothing we can do.
You recorded your first loss against  Jebete of the Republic of Benin in Nigeria, how did you take the defeat?
I took it in good  fate because as a sportsman you should be able to accept defeat. I never thought I would lose but since the judges gave it to him, I accepted it.
You recorded another loss against James Tony of Ghana, why did you always lose to foreigners?
There is nothing like foreigners in boxing. If you lose you lose to a better boxer. The five losses in my career were to a more prepared boxer and I don't agree that Nigeria don't have good boxers. It all boils down to preparation and administration of the sport in the country.
Load more