Governor Adebayo Alao-Akala of Oyo State has cleared the speculations surrounding whether or not President Jonathan Ebele Goodluck would contest the 2011 presidential poll. "Authoritatively, I declare to the world that Jonathan will contest 2011 presidential election," he said.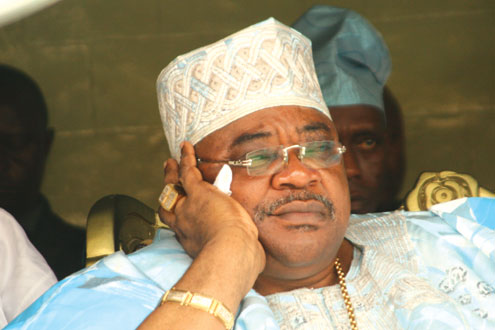 Akala disclosed this to newsmen in Ibadan at a media parley as he expressed his anger over what he termed falsehood published in some newspapers report about him.
The governor, who affirmed that he is an ardent supporter of President Jonathan, stated that though the former military president, General Ibrahim Badamasi Babangida, IBB, is qualified to contest election in the country, he would work for the emergence of the incumbent as president in 2011.
He said, "I am a strong supporter of Jonathan blood and flesh. IBB has the right to contest but the party primary will determine who gets the ticket to contest under the party for presidency. Nothing will stop Jonathan from contesting and win the forthcoming election. As for some of my aides who are fraternizing with IBB, they are those that I just brought into the government for employment sake. They are not part of my think tank or kitchen cabinet. They cannot represent me anywhere. They are adults who can choose what they want. But for me and core members of my cabinet, we are for Jonathan for president in 2011.".
He, however, advocated for credible election through one man, one vote, stressing that anything short of credible election would bring disaster upon the nation.
On the myriads of problems confronting him, he noted that it is all because of 2011 election, stressing that his opponents are desperately using dirty ways to frustrate his second term bid but, "I have won the 2011 governorship poll already. PDP has won that election here in Oyo State and nothing anybody does that will distract me. Their cheap blackmail cannot move me. They thought that the tribunal will favour them but they failed there. They also failed at the appeal court. That is why they came up with series of unholy schemes to unseat me."
He added: "No one negotiates power. One must hold on to power when power is given to him. That is what I am doing. I will not allow anybody to hijack power from me."
On the allegation of the governor attempting to assassinate Alaafin of Oyo, His Royal Highness, Oba Lamidi Adeyemi 11 and former governor of the state, Akala noted that there is no basis for that, adding that his detractors were just looking for a way of bringing him down.
Akala further stated that killing Alaafin if he wrongs him would be senseless when he has the power to banish him from the throne for life, adding that whatever that happens, culture demands that traditional rulers be respected by all and sundry.
He described Alaafin as an insatiable person who has all he wants but not satisfied as he is always craving for more, adding that he has called the appropriate security operatives to investigate the allegation with a view to unveiling the truth.
On Lam, he noted that it was illogical for anyone to think that he wants to kill him because Lam is inconsequential to him adding, "Why will I kill Lam and of what use? Lam cannot stand on my way to run for the second term and win."
—Gbenro Adesina/Ibadan
Load more