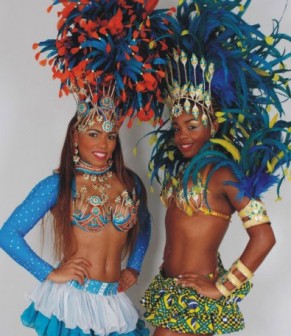 POR AI, a group of six young and talented male musicians and two delectable female dancers from Rio de Janeiro, Brazil, all in their 20s, will descend on Lagos this week for a series of concerts in various locations,  the first of which will be at the MUSON Centre, Onikan, on Sunday, 25 July.
The concerts are part of the Brazilian Consulate's ongoing promotion of Brazilian culture globally that has now taken a bigger dimension with Brazil's back-to-back hosting of the world's two greatest events, the World Cup and the Olympics in 2014 and 2016 respectively.
The Brazilian musical ambassadors comprise Tiago Bernardes, a composer and percussionist who plays different instruments; Daniel Filho (Uncle Chico), a general percussionist; Renan Junior, who plays different string instruments; Diego Garcia, the lead vocalist; Alcides Pereira, who plays all kinds of percussion;  Mario Jorge, guitarist; Jaqueline Xavier, a dancer who has travelled all over Brazil and also overseas, showing her swing and talent as a dancer and Deiseane de Jesus, who is part of the famous Samba school called Imperio Serrano.
The band, which has been together for a while, is expected to offer the most typical of Brazilian music—the seductive rhythm of Samba.

—Bayo Adetu
Load more