Juju hip hop crooner and the chairman, Lagos State PMAN, Witty Wale Thompson, spoke with P.M. Entertainment on his new album, juju and the music industry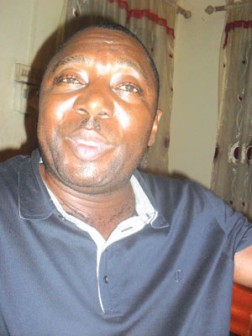 Your last album, Play On, was released six years ago, what are you doing now?
I am doing fine. Like I told my fans, any time I come out with an album, it has always been a hit. Thank God, I am working on another one now.
What is the title?
I don't want to let the cat out of the bag for now.
Who is producing it?
Uncle Laolu Akins, of course.
Why Laolu Akins?
Because he produced the album, Juju Collections and for that fact, he is a guru in the industry, who I respect a lot. I also trust his opinion when it comes to recording.
A lot of people believe that juju music is as good as dead, what is your opinion about this?
There are so many reasons because no matter how good your music is, if you don't have a good marketer or promoter, you are on your own. Although I have answered this question a couple of times, I don't know what is wrong with juju music because promoters and marketers avoid it like the plague, I know it can never be forever.
Some marketers said that  some juju musicians play substandard music, what is your opinion about that?
Nobody can tell me that there are no good juju musicians in Nigeria or that most juju artistes are not playing good music. If juju music is not doing as expected, it is not the fault of the artistes, others are to be blamed too. Marketers too should share a part of the blame.
How many musical instruments can you play?
I can play virtually all the instruments like drums, a bit of keyboard, Hawaian guitar, congas, lead guitar and others.
Is playing musical instruments not part of juju music?
No, if you see an artiste who cannot play any musical instrument making it, others believe that playing musical instruments is not important, but as far as I am concerned, it is a plus to any artiste because the instrument will guide him during composition and while playing live shows.
In your own opinion, what is the problem with juju music?
Nothing is wrong with juju music because it is still the best, more so, it remains the father and mother of any brand of music in Nigeria. We are umber one in Nigeria and the most patronised.
Is it because you guys are not controversial and sing abusive songs that your works are not being marketed?
I don't know, but I believe that if you are good, you don't have to sing abusive songs before you are heard.
Lately, there is an influx of live VCDs, what effect does this have on audio CDs?
It is so bad because I entered a shop recently and discovered lots of live VCDs being sold there. Those recorded during burial, child naming and other shows, including birthdays. So how do you expect audio CDs to sell because the buyers would have watched and heard the same song you want to put in the album. This is killing the industry and marketers are supporting it.
Who are the artistes behind the trend?
I cannot say for now but I see lots of fuji artistes' live VCDs on the music shelves.
Why is this so?
I don't know, because when I started going to shows with my dad, then I was 14 years old, there were no audio cassettes and for one to get one recorded, that person needed to come to the same show about two or three times. It was very important to people because they wanted to go to the show and enjoy the artiste's music.
In your assessment of the music industry, would you say Afro juju music has contributed to the industry?
Afro juju has helped a lot, because before its advent, juju music was being played on low tempo but when it came, people fell in love with it. Looking at it 20 years ago, there have been a lot of changes. For you to go into juju music, you have to learn a lot of musical instruments to know where and how to start. I had started playing before Afro juju came but when it came, friends advised me to start playing Afro juju and I followed the trend. Now I have created hip hop which is my brand of juju music.
Why hip hop?
Afro juju did not just come like that. There is Afro music and juju put together. For Shina Peters to have brought Afro juju, he modernised it and made his music different from those of others. So, bringing hip hop into juju music is a way of modernising it also.
At a point, you were moving in and out of the country, what was the reason behind this?
I will say God has really answered my prayers for that to happen because I wanted my music to be heared all over the world and not in Nigeria alone. So, I say it is God who answered my prayers and made that possible for me.
When is your family returning to Nigeria?
I have just returned from Dublin where I went to see them, so their coming back home is no big deal.
How is Lagos PMAN?
Lagos PMAN is doing fine although I have not been around for about four months. I just came back but I know Lagos State PMAN is intact.
How many songs are in your new album?
I have enough songs in it.
How do you get your inspiration?
God always gives me inspiration and I get inspired by the things I see around me. Sometimes, the inspiration just comes and I will start singing. There are some tracks that I don't even know how they came.
What is the future of juju music?
The future of juju music is very great because I believe in the music genre and it has been there even before I was born. I play juju music and have lots of colleagues playing it too and we are the most sought after in terms of engagements.
So, are you saying that juju music is more popular than fuji?
Yes, we perform more at corporate events.
Load more