All is now set for the extradition of former governor of Delta State, James Ibori, wanted by the UK on charges of money laundering.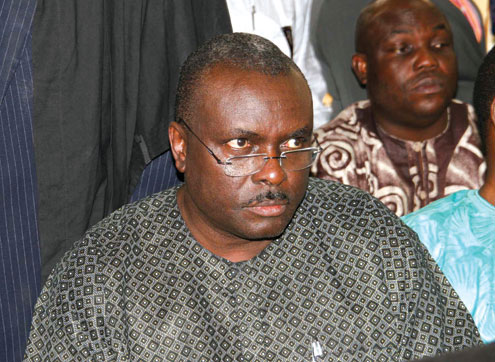 Ibori was arrested in May by Interpol, in Dubai.  He will soon be extradited to London, confirmed a Dubai Police source.
According to huhuonline, which also quoted Gulf News Ibori, who is believed to have entered the UAE a couple of times on visit visas, was planning to start a business there.
Acting on an arrest warrant issued through Interpol, Dubai Police investigators arrested Ibori at a five star hotel in Palm Jumeirah.
He was initially bailed and later he was detained.
Following  a media report, Nigeria's anti-corruption agency, the Economic and Financial Crimes Commission, EFCC, tried to arrest Ibori to question him over allegations that $290 million (Dh1064 million) was looted from Delta State government coffers while he was governor.
However, hundreds of Ibori's supporters prevented the police from arresting him.
Farida Waziri, chairman of EFCC, was quoted by the media as saying that Ibori was detained after an arrest warrant was issued by Interpol.
"The EFCC charged Ibori in 2007 with looting more than $85 million during his eight-year tenure as governor of Delta, one of the three main oil-producing states in the southern Niger Delta region, but a court dismissed the charges," Waziri said.
Ibori is accused of using state funds to purchase several companies under his name.
Investigators said Ibori later laundered that money in the UK, in bank accounts he controlled — a matter which he continuously denied even while arrested in Dubai.
Two of Ibori's associates, his sister, Christine Ibori-Ebie and his mistress, Udoamaka Okoronkwo, were jailed five years each in June this year for money laundering in Britain, where a court froze $35 million worth of his assets in August 2007 on suspicion they were the proceeds of corruption.
The money-laundering trial in London began in 2007.
The former governor's associates reportedly deposited 70 million pounds in various bank accounts in the UK on behalf of Ibori.
Ibori was detained by Dubai Police on the sole request by the Metropolitan Police Service, the police source said.
When extradited Ibori would become the second person to be sent to Britain for trial under a 2008 treaty.
Anti-corruption officials in Nigeria said they are working with the Metropolitan Police in London to ensure Ibori is extradited there.
Load more