Traffic on the popular Obafemi Awolowo Way, Ikeja, Lagos, South West Nigeria, was disrupted for hours as motorcycle operators, popularly known as okada riders, took to the road to protest alleged harassment by officials of the Lagos State Traffic Management Authority (LASTMA).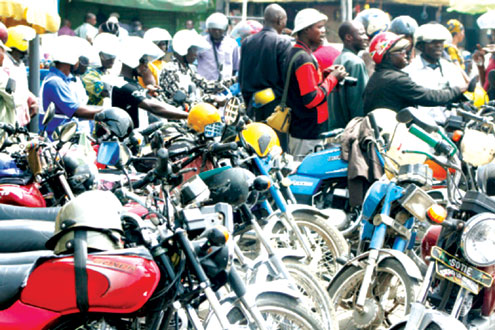 Motorists had a hell of time as the riders were bent on achieving their aim of letting the people know about their plight in the hands of the 'almighty' LASTMA.
The riders, in their hundreds, chanted anti-LASTMA songs, condemning the way the outfit harass, extort money from them and arrest their members indiscriminately.
The straw that broke the carmel's back was the recently ban placed on okada from plying certain routes within the Lagos metropolis.   One of such is Awolowo Way, Ikeja.
The okada riders said some of their members were arrested by LASTMA operatives on the road, saying that they were aware that they were banned from plying the secretariat area and not the entire stretch of the road.
A large number of them had leaf branches on their bikes, while they caused traffic congestion for hours before the police intervened.
"We no longer want to see LASTMA officials on the road" and "LASTMA should stop harassing us" were some of the inscriptions on the placards they carried.
A rider, Mr. Ismaila Yusuf, said that okada business in the state was no longer attractive because "as you set out for the day's business with your bike, you may not go back home with it at the end of the day," adding that it is now very frustrating because the business was the only means of his livelihood.
Another rider, Mr. Peter Eduru, appealed to the state government to call LASTMA officials to order.
According to him, "some of them don't wear name tags or identification numbers on their uniforms. Some in mufti will hold you and threaten to arrest you unless you pay them N1,000.
"If government allows them to frustrate us out of this work, they should not complain when people start stealing and robbing. How much do we make that LASTMA people want to be collecting everything from us?"
According to one Hassan, another rider, LASTMA officials beat up their members without even disclosing their offence and impound their motorcycles, while Mr. Jude Ike, a motorcyclist, implored the management of LASTMA to enlighten okada riders on their limits in order that they won't flout government rules.
Special Adviser to the Governor on Transportation, Mr. Kayode Opeifa, said the okada men told him they sighted LASTMA men around radio bus stop and that on sighting them, they thought they were there to apprehend them for plying Obafemi Awolowo Way, one of the roads okada riders were not allowed to ply.
Opeifa said the riders thought LASTMA officials were coming to arrest them and that they got scared which led majority of them getting scared and then beat a retreat to reinforce.
"I have just left Alausa Police Station where I met the leaders of Okada operators in Lagos State and one of the members of the union, who was there at the scene, said by the time they went to mobilise their men, they told them that LASTMA officials have begun their enforcement on Awolowo Way and they got confused that they would be arrested.
"During the discussion, they said that they understood there were regulations made by the state government which they have been complying with and that they have no problem with the enforcement," he said.
On the issue of extortion, Opeifa stated that "if an okada operator does not commit any offence, the operator will not be in any way extorted. When people are protesting, they change the course of their protest to blackmail as a means of getting the attention of the public and the media. We need to understand the antics of people who are disobeying law and order in the state.
"The protesters' act had led to a hectic traffic along the road, in order for law and order to prevail, the men of the Nigerian Police moved in to calm the situation, I have spoken with the chairman of MOALS and ANACOWA and they said they are not aware of the protest by their men."
According to Opeifa, "we are asking people to put on helmets and not to ride their motorcycle on dual carriage way not because of anything but for the protection of their lives and that is the law. In the issue of law, there is no excuse and no moral ground.
"Today, some of the okada riders said that they don't know the reason why LASTMA officials arrest them and tell them to pay N25,000 while FRSC will ask them to pay N2,000.
"This shows that they are no more worried about paying the fine imposed by FRSC but that of LASTMA is what they are worried about, whereas the fine charged by LASTMA is according to the law of the state.
"When the people continue to take laws into their hands, government will be forced to respond with stiff measures. The enforcement of law on okada will be and their union has come to plead for more time and that time is running out. I have now seen that there are more okada riders in the state with their helmet on, which shows that they are listening."
He urged Lagosians to demand for helmet from the operator of any okada they wish to board and that they should ensure that he does not carry more than one person.
"We do not allow extortion and whenever you are arrested by any LASTMA official, please read the name tag on him or her and report to us," Opeifa stated.
Load more