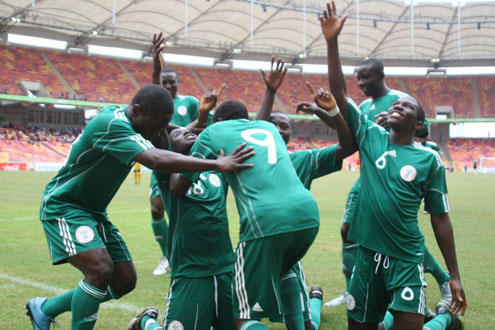 The African Youth Championship, AYC qualifier between Nigeria's Flying Eagles and the Junior Syli Nationale of Guinea recorded a low turnout of football fans at the Abuja National Stadium on Saturday.
It was surprising to see that such an international match was watched by a scanty crowd which were not up to 5,000 in a stadium, which has the capacity to contain at least 60,000 people.
Most of the spectators, who spoke to P.M.Sports after the match that ended 2-0 in favour of the Nigerian team, expressed their displeasure over the way the Nigeria Football Federation, NFF, handled the publicity of the match.
"I really don't like the way NFF packaged this match at all. It's so sad that the Abuja residents did not come to the stadium to watch an international match involving our national team. The fault was from the NFF," said Mr. Femi Akinlagun.
Another fan, Mr. George Chukwu, said that the location of the stadium always scare people away from coming to watch matches.
"If not for the passion and interest I have in football, it will be very hard for me to come to the National Stadium to watch matches.  The stadium was located very far from the suburb of the city of Abuja and again it is not easy getting transport to this place. To me, I think the stadium is wrongly located in the first instance," Chukwu said.
A lady, Miss Clara, said that when next any of the national teams are playing at the National Stadium in Abuja, the NFF should make adequate publicity that will motivate the people to come to the stadium.
"I noticed that it is only when the Super Eagles want to play that the NFF go to town to make noise about the match. This is not good at all.
Not many people know that the Flying Eagles wanted to play an international match at the stadium. There should be a change of attitude from the authority concerned," she said.
Load more