A doctorate degree Accounting student of the Nnamdi Azikiwe University, Awka, Anambra State, Nigeria, Mrs Uche Onyekwelu has won N500, 000 Institute of  Chartered Accountants of Nigeria, ICAN, Research Grant for her academic excellence in accounting.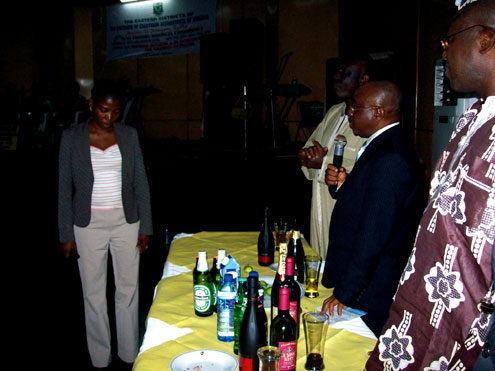 The President of ICAN –Major General Sebastian Achulike Owuama [retd] announced this when he presented Mrs Onyekwelu before members and guests at the  5th Eastern Districts Annual Accountants' Conference of ICAN gala night held at Nike Lake Resort, Enugu.
"Mrs Onyekwelu met all the requirements for the grant,'' said Owuama.
She was also made a member of Research and Technical Committee of ICAN.
General Owuama commended the effort of Uche at almost completing her doctorate in accounting at the age of 36, saying the institute is proud of her.
In an interview Uche told P.M.NEWS that the love for academics moved her from the field to the ivory towers, having worked with the Federal Medical Centre, Asaba in the Account and budget department and later joined Delta State University in 2004.
Born on 18 January 1974 in Ezeagu local government area of Enugu State, Uche obtained her first degree in accounting from Enugu State University of Science and Technology in 1997, qualified as an accountant in 2001 and was inducted in November 2002.
She is currently a lecturer at the Accounting department of her Alma mater, Enugu State University of Science and Technology, ESUT.
The Chairman Enugu and District Society [EDS] and Head Department of Accounting, ESUT, Dr. A. U. Nweze, attested to the academic brilliance of his former student, saying this made him to employ her as a lecturer at ESUT.
The President of ICAN led a powerful delegation from the Presidency and Council of the Institute to the conference that was attended by the Vice President, Prof. Francis Ojaide, the First Deputy Vice President, Doyin Owolabi, twelve Council members and the Registrar/Chief Executive.
A total of 167 chartered accountants including a past president, Sir Ike Nwokolo, were also in attendance.
By Jude Orji /Enugu
Load more