In a move to improve on previous efforts aimed at ensuring proper hygiene in the production of packaged drinking water and checkmate violations, the National Agency for Food and Drug Administration and Control (NAFDAC), has discovered some illegal producers of sachet water popularly called 'pure water' in Lagos and Ogun states.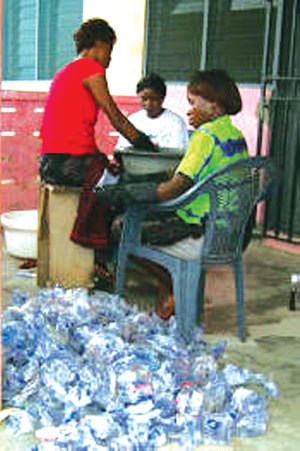 It also shut down Ajipon water factory at Ogijo, a border town between the two states.
The Director-General of NAFDAC, Dr. Paul Orhii, said the agency would ensure that the operating environment was not conducive for unscrupulous people bent on violating its regulations to the detriment of the health of Nigerians.
Some of those arrested include producers of Desert Water, located at 21, Esugbai Street and Flamingo Water at 46 Omidiji Street by Odesanya Street, Otto both in Ebute Meta, Lagos, South West Nigeria.
Orhii, who spoke through Mrs. Hauwa Keri of the Establishment and Training (EID), said the agency swung into action after it received a complaint from a concerned citizen about the existence of some fake water factories operating in living rooms of some people.
This, he said, led to the arrest of the suspects.
The NAFDAC boss explained that the discoveries were "mind boggling," as the sitting rooms of the suspects were used for the production of the sachet water.
His words: "When the inspectors allegedly forced the sitting room open, untreated raw water was being packaged for sale to the public under extremely unhygienic condition, contrary to NAFDAC regulations, which stipulate that all packaged water for human consumption and commercial purpose must be subjected to physical and chemical treatments and other registration requirements.
"Again, the locations of these illegal activities were unsightly and the one-room outfit lacks basic requirement for production of clean, potable water for commercial purposes."
Orhii, who also regretted that NAFDAC registration numbers were printed on the water sachets to deceive unsuspecting members of the public, said the surface pumping machines in the so-called factories had to be dismantled by his officials and the bags of water destroyed.
He, however, disclosed that the agency had arrested the owners of the factory.
On the Ajipon Water factory plant, he explained that the company had its product legitimately registered by NAFDAC a few years ago, but was found to be producing water under very poor hygienic condition.
Another offence committed by the company, he disclosed, was that it failed to renew its licence after expiration.
He warned Nigerians that drinking unregistered packaged water can cause serious health problems including diarrhoea, worm infestation and typhoid fever, among others.
Orhii, however, vowed that the agency would continue its surveillance activities on all regulated products, adding that violators of the regulations guiding the manufacture/distribution and sale of NAFDAC regulated products would face the wrath of the law.
"The agency will no longer tolerate irresponsible behaviour by companies whose products have been licensed but fail to maintain Good Manufacturing Practice (GMP)," he added.
Load more