A 40-year old pastor with the Redeemed Christian Church of God, Kunle Odeyemi David and his accomplice, Ganiyu Babatunde a.k.a. Iyalla, 52, have been arrested by the Lagos State Police Command for fraudulently withdrawing N8 million from the bank account of  a Lagos-based hotelier, Alhaji Mudashiru Olanrewaju Odetunde.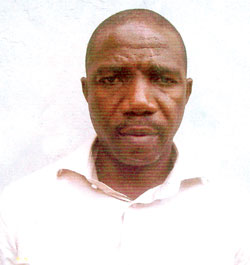 According to police sources, David, who resides at 3, Transformer Street, Amikanle, Alagbado, Lagos and  Babatunde, who lives at 8, Oduduwa Street, Surulere, Lagos, have been allegedly  withdrawing money from accounts of bank customers with the connivance of a female cashier. Their victim, Alhaji Odetunde, the owner of Moonshine Motel, Lagos told P.M.NEWS: " The suspects withdrew money from my account with the assistance of a female cashier. My bank is near Nigerian Breweries, Iganmu, Lagos.
" Can you imagine that when the pastor and his comrade-in-crime removed N8 million from my account, I went to report at the bank's headquarters. Immediately I stepped out, I got another alert that N2 million was removed again from my account.
"I dashed back to the bank to complain again and in a twinkle of an eye, I got a transaction alert which read your account has been credited with N2,000,000 by returned 062317520 cheque.
"But for the assistance of police detectives attached to Area 'A' command, Lion Building, Lagos Island, they would not have been arrested.
"I am disappointed with the way the bank officials handled the matter. I feel it is no longer safe to keep money in the bank. They keep deceiving me over my N8 million.
"The bank is yet to pay me  my money. I work extremely hard to get money."
Pastor David said: "I am a pastor of Redeemed Church. It is true we withdrew money  from Alhaji Odetunde's account.  I got 30 per cent of the money. The cheque was paid into my account and we withdrew it at Gbagada branch, Lagos. I deal in oil and gas." Babantunde said: "The offence has been committed. The account number we used was 06231753 at the Ibadan branch. The money was paid into Pastor's account with the help of a female cashier."
It was also gathered that the police at the Area 'A' Command have impounded a Toyota Infinity SUV marked DM11EKY and a black Picanto Car with registration number MN 141 KJA from Pastor David and Babatunde respectively.
Police sources told P.M.NEWS that the suspects will be charged to court soon.
—Oluwole Adeboye
Load more