Respite appears to be in sight for the embattled House of Representatives members who were suspended recently over a commotion during the House' proceedings as a Federal High Court presided over by Justice Adamu Bello this morning in Abuja granted leave to a sympathetic Non Government Organization to apply for an order of mandamus against the Economic and Financial Crimes Commission.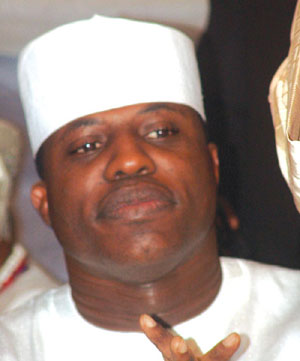 The group, Human Rights Justice and Peace Foundation approached the court to secure the leave to apply for an order of mandamus to compel the anti-graft agency, in accordance with the facts disclosed by its investigation, to arraign the Speaker of the House of Representatives, Hon. Dimeji Bankole, in view of the allegations raised by the suspended members which led to their suspension.
They also requested for the court to, alternatively, make an order directing the Economic and Financial Crimes Commission to place before the court, details of the investigation into the allegations of fraud, fraudulent misappropriation, embezzlement, stealing and abuse of office made against the Speaker.
Relying on sections 5 and 6 of the EFCC Establishment Act which empowers the anti-graft agency to investigate and prosecute offences committed under the Act, the group alleged that the anti-graft agency received a petition to investigate the Speaker in respect of the purchase of 380 units of Peugeot 407 brand of cars from Peugeot Automobiles Nigeria.
The Chairman of the agency, the group further noted, had at various public fora acknowledged that they are investigating the Speaker, and observed that nothing had been heard so far concerning the outcome of their investigations.
They also alleged that the specification of cars delivered to the House was different from the ones paid for and that the amount paid included VAT but that the Speaker and his cronies made another deduction for VAT and in the process defrauded Nigerian tax payers of the sum of N530.4 million. They claimed that the money had been traced to a private account.
The group further alleged that the anti-graft agency had established these allegations but has refused to prosecute the Speaker despite series of letters it sent to the agency and the Attorney General of the Federation and Minister of Justice.
They accused the Speaker of using his position to escape arraignment, hence their resort to the court for the order compelling the EFCC to carry out their constitutional duties.
Justice Adamu Bello granted them the leave to apply for the order and adjourned till 11 August to hear the application.
By Nnamdi Felix / Abuja
Load more