Kano state governor, Malam Ibrahim Shekarau has officially declared his intention to contest the 2011 presidential election on the platform of his party—the All Nigerian Peoples Party, ANPP.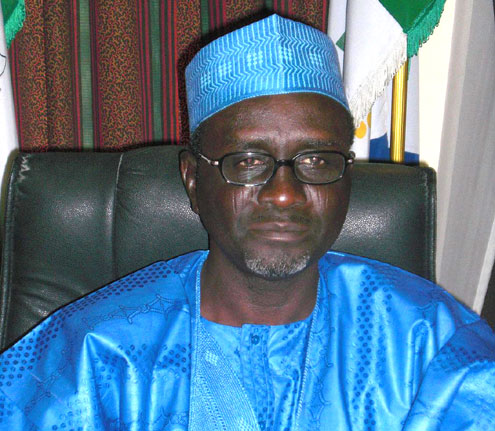 He said he will make himself available to the party at the presidential primaries and contest with other aspirants for the party's flag.
He is not threatened by the rumour that former military president, Ibrahim Badamosi Babangida is considering ANPP as an option if eventually he lost the PDP ticket as he noted that according to the party's constitution, new entrants must spend at least 12 months before contesting for any elective position.
Shekarau also dismissed insinuations that a caucus within the ANPP is pressurizing him to step down his ambition, adding that for now, he has not seen any party chieftain who has made public his ambition to run for presidency, "but that does not mean my ticket will be automatic," he added.
Shekarau spoke to journalists in Kano at a dinner Tuesday  night where he confirmed that he would formally tell the world why he wanted to rule Nigeria at a world press conference 5 August at the International Conference Centre in Abuja .
His ambition is not a do-or-die affair, but was inspired by the desire to serve humanity, he said.
"I want to say it clearly that after due consultations in all zones across the federation, I have decided to accept the challenge to participate in the democratic process of serving Nigerian citizens at the level of the presidency.
"I came to this conclusion with the notion that this participation is informed by my desire to serve humanity. To me, it is beyond political party affiliation, it is beyond political party boundaries; and, in fact, it is beyond mere winning of election. As far as our project is concerned, I want to tell you that there is no desperation.
"This of course will not mean there wouldn't be commitment, or there wouldn't be the seriousness and the determination to win; but as believers, we believe that in the end, winning or not winning is within the territory, the full territory of the almighty God. Ours is not a question of what one time PDP leader said that it is a do-or-die affair."
He said if given the ticket by his party to run, his manifesto would revolve around human development and social justice, "Whatever manifesto, whatever programmes we may have for Nigeria is going to be guided by the ideology of human development and social justice. This is going to be my guiding principle because all that we would be doing should be about humanity.
"And all that you can do to any human being—either you call it dividends of democracy, physical infrastructure and what have you, if there is no social justice, it leads you to loss of confidence, it leads you to break down of law and order. So, this is why we decided ours would be pegged on human development and social justice," he stated.
He described his relationship with ANPP leadership at the state and national levels as very cordial, adding that if at the end of the day, primaries are held and another person emerges as the party's presidential flag-bearer through a transparent election, "I will support the person; but all I am saying is that I have decided to join the race with the support of my party."
P.M.News learnt that, already, the Shekarau for President Campaign Organization has started working. Offices of the organization have been established in Abuja and other major cities.
Malam Bala Mohammed, Shekarau's Special Adviser/Director-General on Societal Re-Orientation, former World Bank Consultant is the Director of Communications of Shekarau for presidency while Sule Ya'u Sule, the Governor's Senior Special Adviser on Media and Publicity is his Deputy.
Other committee's have also been formed drawing membership from across the nation.
Shekarau also commented on the dust raised within Kano ANPP over the his choice of Salihu Sagir Takai, his commissioner of Local Government Affairs as his possible successor, saying that the whole issue was "mischievously" over-blown by some party members.
He explained that on several occasions, party stakeholders including state and National Assembly members mounted pressure on him to give the lead on who would emerge the ANPP flag-bearer in 2011 and he acted in that manner.
Governor Shekarau who expressed reservations over the way some party chieftains perceived his actions, noted that his choice for Sagir Takai is not final but a personal opinion from a party man.
The governor swore that he has never called the party leadership to impose Takai on it, adding that, "this does not in any way stop anybody from aspiring or wanting to contest.
"I will never ever have problem with any other person who wants to contest. My Deputy (Abdullahi Tijani Gwarzo) is here with me and he is an aspirant. I told him I have no problem with you contesting. He is not offending me; and I am not in any way displeased over his ambition because this is democracy.
"I have said I am not an angel, my choice may not necessarily be the best of all. What I am saying is let God make the ultimate best of the choice for us. So anybody who accuses me of dictatorship on this affair is grossly unfair to me. You are either accusing me out of ignorance or out of mischief because the party has not taking any stand on it.
"There could still be primary election. Of course, our party constitution provides for two stages—it said go for consensus, if consensus fails, go for election. We have set up a five-man committee that is talking with the aspirants. And if by any chance, a consensus is arrived at regardless of who the consensus agrees upon, not necessarily my choice, I will not say no. I have said it severally that the position I took is not final. The door is still open," he said.
Governor Shekarau who came to the dinner straight from the Northern Governor's Forum held at the Council Chamber, Sir Kashim Ibrahim House, Kaduna, took time to read the two-page communiqué signed by Niger state governor, Dr. Mu'azu Babangida Aliyu, chairman of the Forum.
Shekarau emphasized that the Forum recognized the fact that the issue of zoning the presidency is entirely the Peoples' Democratic Party, PDP, affair.
"People are thinking that we will come out and say, we support zoning or we do not support zoning, as I said, we don't want PDP to mischievously box everybody to their own corner. It is their own problem, I was advising them that look— your constitutions says this, go to the drawing board and solve your problem. Those who feel aggrieved in your party will find alternative," he stated.
According to the communiqué which Shekarau made available to journalists at the dinner, "The Northern Governors Forum after collating the report from all the 19 Northern States and after exhaustive deliberation recognizes the following: the supremacy of the 1999 Constitution as encapsulated in section one; the provision of section 131 of 1999 Constitution which states the qualification for election into the office of the President of the Federal Republic of Nigeria.
"Arising from the above, therefore, the Forum acknowledges the right of President Goodluck Jonathan and, indeed, any other Nigerian to legitimately and constitutionally contest for the office of the President.
"On zoning, the Forum recognizes the fact that the issue of zoning is a PDP affair as contained in section 7 (2c) of the party Constitution. Therefore, in acknowledging the circumstances of force Majure arising from the demise of late President Umar Musa Yar'Adua and subsequent ascendancy of President Goodluck Ebele Jonathan to the presidency.
"The Forum resolves that wider consultations should continue at all party levels within the PDP with all stakeholders across the nation to address the concerns of all in the interest of peaceful co-existence and advancement of democracy in our dear country Nigeria," the Communiqué further stated.
According to Shekarau, 18 northern governors were present at the meeting, excluding Isa Yuguda, Bauchi state governor who was unavoidably absent owing to the death of the Emir of Bauchi, "but he sent his position to the forum."
He also spoke briefly on the need for a comprehensive voters' register, noting that there would be no reason to pressurize the Independent National Electoral Commission, INEC on when to conduct elections, "whatever time-frame INEC presents, we should accept in good faith. We should allow them that time frame to work."
—Maduabuchi NmeribehKano
Load more