Officials of Power Holding Company of Nigeria, PHCN, and the Police Area Command in Calabar, Cross River State, South-South Nigeria, are at a loss over the fate Akan Victor Okon, a suspected PHCN cable vandal with severe burns.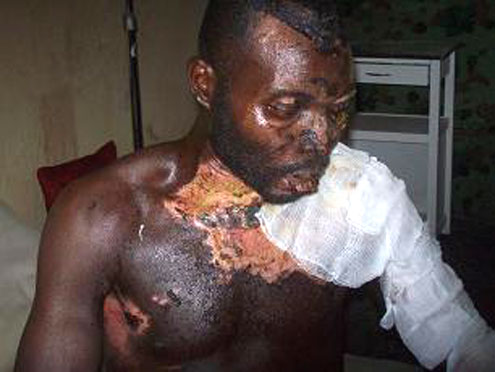 The man  who claims to be a casual staff of PHCN, is now nursing severe burns burns on the head, face and arms at the University of Calabar Teaching Hospital after he was almost electrocuted while allegedly trying to cut the high tension cable.
Akan was alleged to have attempted to vandalise PHCN cable along the Adiabo Road which leads to Tinapa but was almost electrocuted in the process.
He claimed that the manager of PHCN at the Okot Omin office, Mr Obot sent him to connect electricity for a customer residing at the Tinapa Road Junction, 8 Miles, Calabar.
"He gave me his ladder and I climbed the high tension pole. There was cable covered with some leaves of a tree close to the pole, and my head touched the leaves and I was almost electrocuted," he said.
He said it was one of the persons who went with him that discovered that "something had happened that cut the cable with a knife and I fell down."
Akan said he was taken to the Bakor Clinic along Murtala Mohammed High Way unconscious and only regained consciousness on Sunday since Friday last week when the incident happened.
"I was sleeping when I heard some people fondling with my legs. I thought it was the nurse, but when I woke up I saw that my leg has a chain on it," he said.
At the 144 Mutala Highway office of PHCN, Mr Obot said the man was not a staff of PHCN.
This was confirmed by Mr. Fredrick Obi, the PHCN, Calabr district PRO.
"That man has been a thorn in our flesh. He was arrested by EFCC last year when we petitioned them against the activities of the vandal. He esdcaped from there and the EFCC had to shoot him in the leg when he was traced to Calabar. The court released him on the grounds that EFCC had no powers to prosecute vandals."
He said the man "knows all of us here and what he does is to implicate anyone when he is caught. I don't know why God should save such persons when electricity would have finished him."
The man, the police PPRO says, is in detention.
A police sour ce said: "It does not matter what degree of burns, the man is a hardened vandal."

—Emma Una/Calabar
Load more