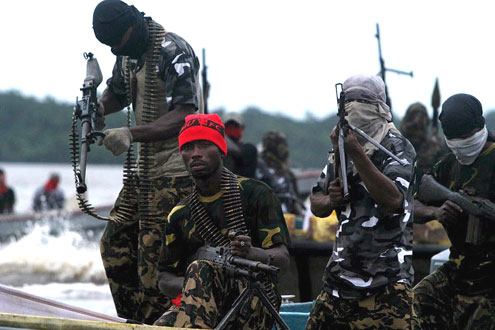 Aggrieved former militant leaders have threatened to return to the creeks should the Federal Government continue to exclude them from the ongoing rehabilitation programme.
More than 200 ex-militant leaders and their boys on Wednesday in Warri, Delta, State South-South, Nigeria, carried out a protest march at the Marine Quarters area to drive home their point.
They disrupted free flow of traffic as they barricaded some of the major routes on Okumagba Avenue and other parts of Warri
The group, whose protest was led by one "General" Augustine Oges and Kingsley Muturu, took over Gbiaye street at about 4.30p.m., and stopped at the NUJ Press Centre at Third Marine Gate.
At the centre, the ex-militants manhandled a staff of the NUJ Secretariat, Mr Christopher Odamah, who tried to stop them from entering the premises.
They told journalists at the Press centre that they would make the Niger Delta region ungovernable if the government continued to refuse the initiation process to document their members and include them in the ongoing rehabilitation programme.
They said the protest was a follow-up to the one they staged in Abuja in early July which, they said, government seemed to have ignored.
The leaders also denied media report that they apologised to the special adviser to President Goodluck Jonathan, Mr Timi Alaibe, over the said Abuja protest.
The ex-militant leaders said that they could no longer guarantee holding back their 'foot soldiers', and that they were unhappy with the way the amnesty programme was being handled.
"We dropped our arms since October last year, but nothing has happened to us since then, hence we stormed Abuja on  7 July to demand for proper documentation of our members.
"Time is running out and we do not want Timi to handle the second phase of the amnesty.
"The President should allow another competent Nigerian to handle this crucial phase of the amnesty.
"Timi has paid some boys to come and apologise to him over the protest in Abuja.
"We do not want him again and we are appealing to the President to be wary in order for him not to rock the boat of his administration.
"We are giving the President from now till 5 August  to address our issue otherwise, we will go back to the creeks and make this country ungovernable,'' they said.
Load more