The Lagos State chapter of the Action Congress has called on Lagosians, especially users of the Lekki-Epe Expressway, to demonstrate understanding with the Lagos State government on this issue of toll collection on the road.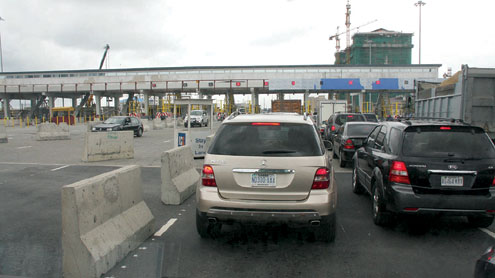 The party says there is nothing strange about the collection of tolls on a road concessioned to a private business organization through a Public Private Partnership programme and which has been completely rebuilt to meet international standards.
In a release in Lagos, signed by the party's Lagos State Publicity Secretary of the party, Joe Igbokwe, Lagos AC says that the Lekki-Epe Expressway is a demonstration of the commitment of the present state government to upgrade all facilities in Lagos to an international standard in line with the mega city outline of the state.
It says that given the limited nature of funds available to the government, engaging a private business concern to source for funds to do some critical works in Lagos is not a strange or a bad idea and should be encouraged by all Lagosians.
"We believe that the choice we face is to either continue slaving under degrading conditions at no costs to the people or getting private concerns to source for funds and give Lagosians the best possible facilities for which they will pay very minimal tolls. We want Lagosians to know that the Lekki-Epe Expressway was concessioned to the Lagos Concession Company (LCC) through a law validly drafted for that purpose.
"The LCC was, under the terms of agreement, allowed to source funds for the total rebuilding of the road from both local and international funding sources and manage the road for a period of 30 years during which they will run toll plazas on the road for the purpose of recouping the money they spent on the road for the said period of time. At the end of the 30 years period, the road will be handed back to the people of Lagos."
The party added: "We want to remind Lagosians and indeed all Nigerians that the above is a standard practice all over the world and there is nothing wrong with it. We want to let them know that the project was secured under the most favourable terms for Lagosians and is predicated on a standard, world class road for the period the concession will last. We want to assure them that concessioning and involving private partnerships remain the best ways infrastructures are maintained in any advanced nation and we want to assure them that the tolls would be affordable to an average Lagosian.
"Lagos AC believes that there would be alternative routes for those who do not want to pay the tolls or go through the expressway and we want to assure them that the interests of all will be protected under the arrangement. We want Lagosians to demonstrate understanding on this issue and support the Lagos State government in its desire to upgrade Lagos and make it a world class city for all Nigerians. We want to let Lagosians know that that development challenges facing Lagos this year in terms of potable water, road and drainages, power, ICT, Transportation (inter-modal) and others (waste, sewage, etc.) totals a hefty $50 billion and if we must make a good impression on the living standard of Lagosians, we must involve private partnership in the task of rebuilding and managing some of our critical infrastructures. We see the Lekki-Epe Expressway as just one part of that infrastructure and we call on Lagosians to support the Fashola government on this. We want to remind Lagosians that nothing good comes without little sacrifice."
Load more