Nigerian President, Dr. Goodluck Jonathan, has urged female politicians in the country to emulate the Junior Female National Football team, the Falconets, who booked a place in the U-20 FIFA Women's World Cup final yesterday by beating Colombia 1-0. The Falconets will slug it out with Germany on Sunday in the historic final.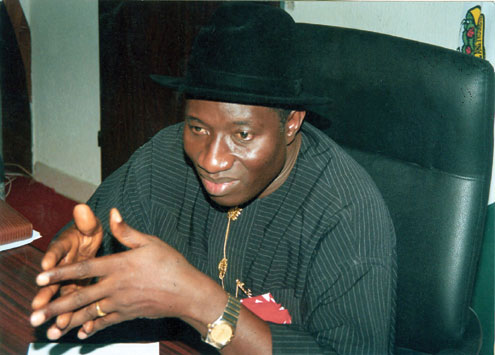 The President said that the challenge of good governance can only be met by participatory team-work as exemplified by the Falconets in the game of football.
"The courage, consistency and the team spirit that I saw displayed by our female team at the ongoing World Cup must also be taken up by the women in the political sphere in the coming 2011 elections, especially in this day and age where Nigerian women are doing us proud at the World Bank, IMF, Nollywood, Academia and other areas," Jonathan said on Facebook this morning.
The President said that the Falconets have shown the world the many possibilities Nigeria is capable of.
"By this victory, the team has inspired an entire nation to believe that the best is yet to come in our football. I want to commend the Falconets for a job well done.
"This is an unprecedented feat in women's participation in the female World Cup. To these great patriots, I say the World Cup trophy is within reach. To all Nigerians, especially our youths, I say that there is nothing you cannot achieve when you apply your mind to it. I congratulate all Nigerians on this historic feat and urge you all my friends, brothers, sisters and fellow citizens on facebook to support however way you can. Go Falcons, go," the President said.
Jonathan had earlier banned all Nigerian teams from participating in international competitions for the next two years.
The decision was, however, reversed after FIFA threatened to suspend Nigeria indefinitely from all world soccer events.
Load more