Players and the technical crew of the Falconets have shown their appreciation to soccer loving Nigerians for their support in the ongoing Germany 2010 FIFA U-20 World Cup.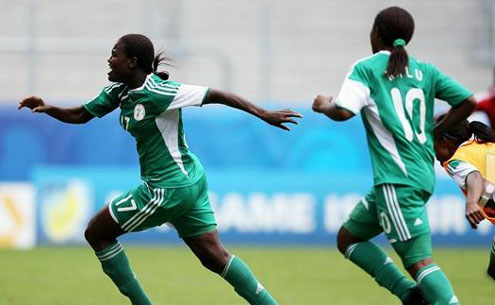 Against all odds, the Nigerian ladies, coached by Edem Egan yesterday qualified for the final of the World Cup for the first time in the history of the tournament, having defeated Colombia 1-0 in the semi final clash in Bielefeld, Germany.
P.M.Sports gathered that the players spent close to five hours after the match calling their relatives, friends and fans on telephone to express their happiness with the qualification to the first ever final in the women World Cup. They also used the opportunity to thank Nigerians for the support they have received from the nation from the first match of the championship.
The Nigerian ladies were made to sweat during a close-fought 1-0 success against the Colombians.The match was a tense affair. It got off to an extraordinary start when the Africans, who were not given a chance back home, took the lead just two minutes into the encounter, but Ndem Egan's charges were forced to endure wave after wave of South American attacks as the match wore on. However, the Falconets held on to continue their magnificent run at Germany 2010 and become the first African team to reach the final of a FIFA U-20 Women's World Cup.
The South American team gave their all as rain fell making conditions difficult for their passing game. They were restricted to few opportunities by the powerful Falconets who seized on their early chance and then produced a solid, organised performance to delight their tuneful band of supporters who gradually drowned out both the Colombian cheerleaders and also a rival German band.Nigeria will play Germany in the final on Sunday.
Load more