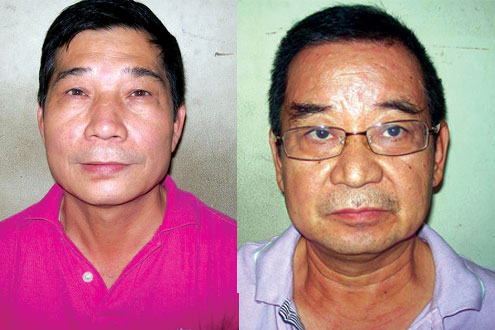 The two Chinese citizens arrested in connection with unlawful importation of 450.4 kilogrammes of cocaine to Nigeria have begged the National Drug Law Enforcement Agency (NDLEA) to try them in Nigeria as they may face death penalty in China if deported, a source told P.M.NEWS this morning.
Reacting, NDLEA Chairman, Ahmadu Giade, said this morning that the two Chinese citizens and their Nigerian clearing agent will all be prosecuted in Nigeria.
The suspects include Richard Wang, 62, an importer of textiles and shopping bags and Chiusen Fong, 54, a timber merchant as well as a Nigerian Alhaji Inua Mohammed, 56, who is a clearing agent.
NDLEA's Head of Public Affairs, Mr. Mitchell Ofoyeju, said in a statement this morning that the decision to arraign the suspects in the country have kept the Chinese in high spirits since the law in China stipulates capital punishment for drug trafficking.
The NDLEA boss said the agency is not considering extradition for now, adding that the suspects will be charged to court in Nigeria as soon as investigation was completed.
Meanwhile, more revelations have emerged about the consignment that was filled with drug. The clearing agent told NDLEA investigators that he was contacted by Richard Wang to clear the container and take it to Ibadan, the Oyo State Capital, South West Nigeria.
He said:  "I am a clearing agent. Richard Wang came to me to clear a container. He told me the container had cigarettes and gave me 3 million naira for the clearance".
However, Fong, in his statement, told investigators that he gave Wang N5 million to clear the container. When Wang was arrested, he said that he was working for Chiusen Fong who lives in Kano. That was how they were all nabbed.
The seizure of 450.400kg of cocaine imported from Chile at the Tin Can Island Port in Lagos, agency sources revealed, was masterminded by an international drug syndicate that smuggles cocaine from South American countries to West Africa.
The anti-drug agency had kept tab on the consignment which originated from Chile and passed through Peru, Bolivia and Antwerp to Tin Can Island Port (TCIP).
According to Giade, "the drug was neatly concealed in customised floor wood inside a container which was cleared and taken to a private warehouse at Iganmu, Lagos".
In June 2006, 14.2 metric tons of similar substance was intercepted at the same port.
—Simon Ateba
Load more