Chief Jimoh Aliu a.k.a. Aworo (MFR),who recently relocated to Ekiti State, spoke with P.M.ENTERTAINMENT in Lagos about the crisis in ANTP, his role, why he was off the scene for some time and his new vocation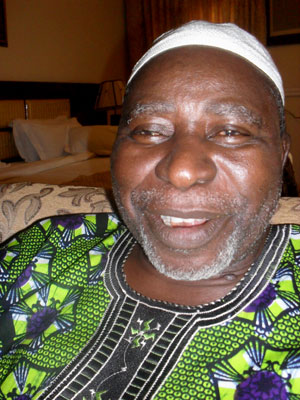 Chief, long time no see, where have you been?
Well, I have relocated to Ado Ekiti, where I do other things.
What about acting?
I decided to take a break because of the problem in the film industry. It is not that I don't have enough money to produce a film, but because of  the insincerity in the industry. People run after money. At 75, I cannot be fooling myself that black is white or white is black.
Like what?
All of you are aware of the problem in ANTP. Also, there is a kind of gang up as there is discrimination among members and worse still, the issue of pirates is killing, yet, we are not united.
You spoke earlier about the crisis in ANTP. What is the state of association now?
I established ANTP, I am also the life patron of the association and member of the Board of Trustees alongside the likes of Lere Paimo, Yemi Farounbi, Lanre Hassan and others.
What then is the problem?
Well, as the first president of the association, I handed over to Adebayo Salami, who also handed over to Jide Kosoko and when it was his turn to hand over, he decided to back Dele Odule against Ashaolu.
Why did Ashaolu take you to court then?
It was because I handed over to Adebayo Salami which did not go down well with him and that has been resolved.
Why is the same Ashaolu fighting Dele Odule now?
Well, when the issue came up again, we the members of the Board of Trustees were called by Jide Kosoko to assist in selecting a president and present at the meeting held in Ibadan, Oyo State. Myself, Lanre Hassan, Adebayo Salami, Baba Gebu and Eda Onileola were at the parley.
Ahead of the election?
No, to resolve the crisis and select one person.
Did Kosoko and other members give you the go ahead?
Oh yes. In fact, we sought the opinion of Dele Odule, Ashaolu and Yemi Solade, who were contesting then and they agreed that they would abide by whatever resolution we came up with.
Was it an open door meeting?
We had a closed door meeting and after which we came up with a resolution that Ashaolu should be picked.
How?
The elders voted and the result of the seven-man committee was four against three, that is, Ashaolu scoring four votes against Dele's three and Adebayo Salami was asked to announce result to others. The other two aspirants, Dele Odule and Yemi Solade also agreed to work with him.
What happened after that?
In fact, what happened next was amazing because, three days after the meeting, what we got was insult upon insult on the pages of the newspapers, magazines and other media. Later, we went and met Yem Kem, one of our patrons.
But for sometime you have not been participating in the affairs of ANTP. Why?
I wasn't invited, they abandoned me, if not for God and my good work.
What happened at the election held in Ibadan?
That was another story entirely because, after Jide Kosoko had stepped down and called for election, I called the electoral committee to come and perform its function but Jide, who went out, suddenly came back to conduct the affairs of the association and Sokoti had to challenge him and that was the end of the election. When the problem was getting unbearable, a senior police officer called for the cancellation of the election.
Did you play any role in disrupting the election?
No, although there were allegations that I was part of the fraud, I am using this medium to challenge them to come out with whatever they have against me. I am innocent.
Does ANTP have any leader now?
No, the only bona fide leader in ANTP now is the Board of Trustees, which Dele Odule took to court.
What is the board doing now?
We want to resolve the crisis by calling all parties concerned for reconciliation and conduct another election if necessary.
What about Dele Odule?
He is still my son, he was the vice president during my tenure, but my advice for him is that he should thread softly and go to the elders he had insulted and tender an unreserved apology.
But the case is still in court?
I believe it could still be resolved because I don't believe in matters involving life and death.
Why are they fighting for the post?
I believe there is something, especially money, that is tearing them apart because they believe the office could be used to solicit for help from government and other individuals. Can you imagine, while these people are fighting, some elders like Akin Ogungbe, are suffering. Look at what an organisation did for Baba Sala recently, why can't they do same to some of the old artistes who are dying in penury? ANTP is sick.
Is it true that you cannot act in any movie except epic films?
No, I can act any role. In fact, there is a film in the pipeline and when it is completed, you will see a different Aworo.
What have you been doing before now?
When I was abandoned, I decided to start my father's job, I am now a traditional healer.
Do you consult Ifa (oracle) for people?
I am a traditional healer which you people call doctor.
Who are your clients?
Many people, but it will not be ideal for me to start mentioning names here.
How do you consult for the people?
I am a Muslim and I love Christianity too, while I try my best possible, but God Almighty heals.
What about the Igunnuko you worshipped in in the past?
I love culture too, religion is different from culture.
Why did you decide to shave your beards and the dreadlock?
Because I want to look young.
Did you perform any rite before cutting the dreadlock?
Yes, because I was born with it and it was part of the decision to cut it that gave me mystery power.
Why did you really cut it?
I won't go into details, but I was told to look for a mortar that has been carved for 100 years, turn it upside down and spread a white cloth on it. That is how far I can tell you.
Why did you decide to relocate?
I want to go home and rest. In fact, I am a title older in Ekiti State, I have bagged the Elejoka of Oke Imesi, a very big title and my palace is under construction. Yet, I still find time to act because Ekiti is the Hollywood of Nigeria or where else can you get those rocks used in my films except in Ekiti?
How did love turn sour between you and Orisabunmi affected you?
Although we still speak on phone and have since moved on with our lives, the fact still remains that the first Orisabunmi was not my wife but this Orisabunmi you are talking about was my wife. I so much trained her to that extent and the loss of such person must affect me, there is no doubt about that, but I am okay now.
Who are those behind the divorce?
It was destined.
What was the role of  marketers in the crisis?
There was division because some of the marketers no longer offered to sell the films from the stable of some of us. But thank God, we are moving on.
Any plan to converting some of your oldies including Arelu and Yoponyonrin, into VCD for sale?
Those ones will be on VCD soon. We are discussing with a marketer.
Load more