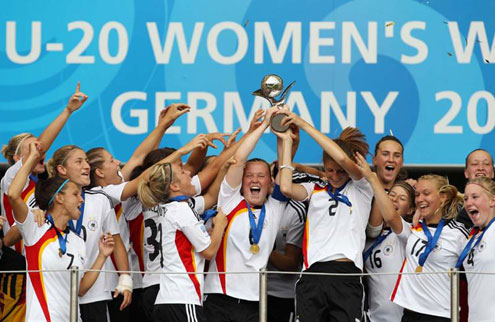 Nigeria's Falconets this evening settled for silver medal after losing the final of the FIFA U-20 Women World Cup 0-2 to Germany in Bielefeld.
Nigeria, the first African team to appear in the final of any FIFA Women World Cup or Olympic Games, fought a good fight in the epic final. But Germany were unstoppable with Alexandra Popp scoring an eight minute goal before an own goal by Osinachi Ohale in the dying minutes of the game sealed a deserved victory for the hosts.
The Nigerian girls, who were stunned by Germany's early goal pushed forward and tried several attempts to level scores but found their opponents' rear too solid to beat.
Germany were close to scoring a bonus goal few minutes into the half-time when goalkeeper Alaba Jonathan mistakenly kicked the ball straight to Sylvia Arnold.
But, Arnold's shot which curled towards the left corner was perfectly saved by the Nigerian keeper. Ebere Orji, who undoubtedly was Nigeria's best player in the tournament and Desire Oparanozie held firm to the ball winning more possession with their teammates, but they failed to find the back of the net.
Orji was close to scoring deep in the second half when she grabbed the ball on the far right. She had enough space to dribble her way out of the tight angle but prefered to play a powerful shot which German keeper, Almuth Schult parried over the bar.
Another narrow chance came for Nigeria when Helen Ukaonu was crowded by the Germans in their vital area. The ball luckily found Oparanozie, who was just few metres away but she also shot wide.
While the Falconets remained resolute, winning some vital midfield opportunities, a more determined and tactically better German team pushed them to their area to create some chances.
Kim Kulig, who was desprately out to score in the tie got a compensation for her effort when her header bounced off Nigeria's post, then hit Ohale's back and sailed into the net for the Germans' last goal.
Germany became the first host country to lift the FIFA U-20 Women's World Cup while Popp, who scored 10 goals won both the addidas Golden Shoe and Golden ball of the tournament.
It was Germany's second victory in the FIFA tournament after winning the Thailand 2004 edition.
By Tunde Oyedele
Load more