Tough times are here for Lagos residents who break the environmental sanitation laws as government has stepped up enforcement to ensure that people comply with the order to stay at home to clean up their surroundings during the monthly exercise.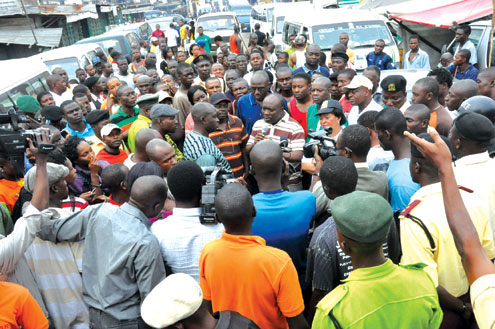 At the weekend, the enforcement machinery of the state government moved to some motor parks in the state to enforce compliance with the exercise as a result of reported cases of people flocking the parks during sanitation, waiting to travel immediately after the exercise ends.
Motor parks in the state are usually busy during sanitation hours as the union members in those parks supervise loading of passengers to travel while the exercise is ongoing, thus making a mockery of the sanitation laws.
However, last Saturday was a day travellers hiding in motor parks and garages, waiting to travel after the exercise, would never forget in a hurry as government's enforcement team led by Commissioner for Local Government and Chieftaincy Affairs, Prince Rotimi Agunsoye and the Special Adviser to the Governor on the Environment, Mr. Sesan Olanrewaju, accompanied by taskforce officials and others, swooped on the sanitation law breakers at some parks in the state.
The first point of call was Mazamaza in Mile 2 area of the metropolis, where several vehicles were seen loading and awaiting the end of the exercise for them to hit the road. They were caught by surprise as the police, officials of the Kick Against Indiscipline (KAI) Brigade and other security agents, swooped on them and arrested over 30 people.
A police man was among those wishing to travel, was also arrested but he seemed to enjoy preferential treatment as he was later let off the hook.
On citing government officials, some passengers and others breaking the sanitation law, scaled the fence and escaped, while those who were not quick enough, were arrested.
On sanitation days, violators arrested would be charged to court and made to pay a fine of N10,000, while owners of vehicles impounded would pay N50,000.
However, those arrested at Mile 2 were later released, being first offenders.
According to Agunsoye, "the reason why we are releasing you is because this is the first time we are visiting this park. We take sanitation exercise seriously in this state. Stay in your house and clean your environment. In August, we will be here and we will make arrest."
"During sanitation exercise, we don't allow any movement. Be in your homes and clean your environment. Next time, we will arrest your union leaders and prosecute them," added Olanrewaju, Special Adviser on the Environment.
The next place of call was Iddo Motor Park in Lagos Mainland, where about 1,000 passengers and traders were seen at the park of Young Shall Grow Motors Limited, carrying on loading activities.
However, government officials have threatened to seal up the park for violating the sanitation laws.
According to Olanrewaju, government was out to sanitise the parks and ensure that loading activities were not allowed during sanitation hours, adding, "by the time we come with enforcement, we will not be telling them, but take them by surprise."
On his part, Agunsoye said "these people should be able to contribute their quota to this system. As regard sensitisation, the local government chairman will call a meeting of the park unions and tell them what to do.
"Next month, when we come here, we will act appropriately. You need to collaborate with government to get to the next level," he said.
Load more