Members of the Redeemed Christian Church of God (RCCG) have moved in droves to Trinity House, a church founded by excommunicated clergyman, Pastor Itua Ighodalo, our correspondent observed yesterday. The church held its thanksgiving service at the luxurious banquet hall of the Civic Centre in Victoria Island, Lagos, South West Nigeria.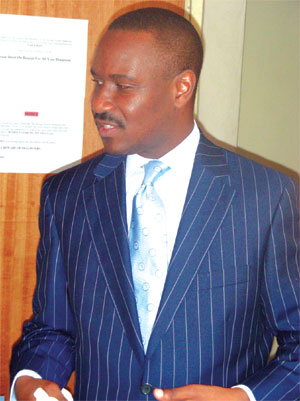 P.M.NEWS

observed that additional chairs were placed outside the main auditorium to accommodate the huge crowd when the hall, with a capacity of 800 seats could not take more worshippers.
The parking space at the Civic Centre was too small as dozens of vehicles belonging to worshippers were parked by the roadside when the service was going on. Loud speakers were also used for those outside the auditorium. The children church was equally filled to capacity. The banquet hall is rented at N1.8 million a day.
P.M.NEWS learnt that worshippers at Ighodalo's new church are mostly former members of Christ's Church, a branch of RCCG in Gbagada, Lagos, where Ighodalo preached until he was excommunicated by RCCG General Overseer, Pastor Enoch Adejare Adeboye.
Ighodalo was excommunicated by Adeboye for getting married while his former wife was still alive as against biblical injunction that a man must remain single until his wife dies. He had remained single for ten years before settling for Ibidun, a former Miss Lux.
With a sparkling wedding ring on his finger, Ighodalo took a glance at the woman who led to his excommunication and then turned to his congregation and said:
"My wife is my source of comfort, my source of happiness, my source of joy, my source of enjoyment and my sugar-sugar."
He added: "I have a dream that one day the Redeemed Christian Church of God will hold hands with the Methodist Church, with Oyedepo's Church, with Oyhakilome's Church, with the Baptist Church and with Trinity House and will be ready to evangelise, instead of building walls of denomination and building empires."
He said that before he was thrown out of Redeemed Church, he knew Christ's Church so well that "if a stone was missing, I knew where it was missing from. I had invested my life, heart and soul there."
Ighodalo then danced before his wife who was shedding tears, hugged her and cleaned her face.
As the choir sang: "I'm trading my sorrow. I'm trading my pain. I'm laying them down for the joy of the Lord," Ighodalo knelt down and prayed fervently.
As if he was narrating his own story, Ighodalo read the Book of Genesis chapters 39 and 40 where the bible narrates the story of Joseph who was betrayed and sent into slavery by his brothers only to emerge Prime Minister in Egypt some years after.
"Joseph had dreams to be in the palace but he found himself in the prison and everything seemed to have shut down," Ighodalo said, adding "Joseph was in the prison of life and quite a number of us are in the same prison. But I am here to tell you that you will get out of prison and end up in the palace and bring back those who betrayed you," Ighodalo said.
He continued: "A friend of mine sent me a text and told me that 'when you were going through crisis last year, you did not know that there will be 18 of July this year'," the day he opened his new church.
Holding his brown cover Bible, Ighodalo, a chartered accountant who runs his accounting firm, told his elated congregation that his church has come to set standards in Christianity.
"At trinity House," he said, "we believe that while man may seem to forget you, God will not forget you. He will bring you out. He will transform your life."
—Simon Ateba
Load more