Nigeria's Oke Tosin won the men's Triple Jump with a leap of 17.22m, a personal best which was just one centimetre shy of Ghanaian Andre Owusu's 17.23m championship record from Dakar, Senegal, set 12 years ago.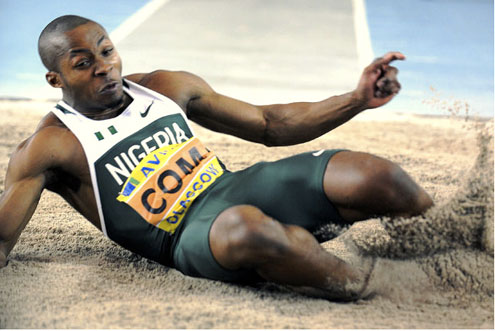 The 29-year-old, who holds a dual Nigerian and UK citizenship, was only one of two Africans (the other is South African Tumelo Thagane who led the African lists with 17.09m before the start of the championships) to have jumped beyond 17 metres this season with a leap of 17.05m in London in June. But after leaping 16.70 in his opening round and jumping 16.87 in both his second and third jumps, he unleashed his winning effort in the fifth round, but then skipped his last attempt knowing gold was secured.
Behind him, Thagane had a bad day on the jumping peat only managing 16.64m with his second attempt, which was only good enough for bronze behind Cameroon's defending silver medalist Huge Lucien Schlek-Mamba, who jumped 16.78m for silver.
"I felt a bit tired after the fifth attempt and that's why I passed my last one," Tosin said. "I am happy about achieving a personal best and I hope to continue improving this season. The objective here was to do above 17 metres and I am happy with that."
Meanwhile, Kenya's Grace Wanjiru set a new African 20-kilometre walk record here on Sunday to successfully defend her title on the fifth and last day of the African Athletics championships.
Wanjiru completed the race in 1hr 34mins 19secs, clipping over four minutes off her old mark set in Addis Ababa in 2008. Tunisian and Arab games champion, Chaima Trabelsi (1:35:33) also finished under the old record in taking the silver with Aynalem Eshetu of Ethiopia winning the bronze in 1:41:46. The Kenyan, who took a year off to have a baby in 2009, and just returned to training earlier this year, said she didn't think it could happen.
"I am surprised to have won this race," she said. "Having had a full year away from training, I didn't think I would be in the right shape to be competitive at all. It feels great."
Tunisian champion Hassanine Sebei won men's gold in a personal best time 1:20:36, pipping former African champion David Kimutai of Kenya who finished second in 1:22:07. Algeria's Hichem Medjeber took the bronze in his best performance of 1:22:53.
Load more