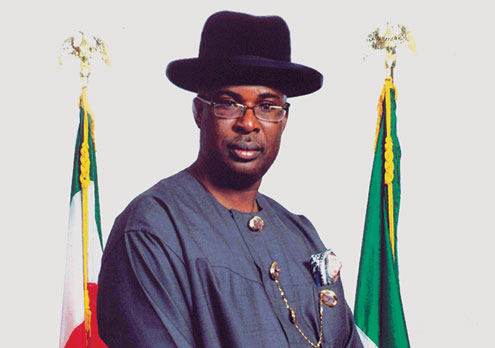 Tension is growing by the day in Yenagoa, the Bayelsa State capital. Barely 24 hours after gunmen attacked the maternal home of Governor Timipre Sylva at Okpoama and beat up his uncle, some unidentified gunmen have launched an attack on the country home of the Speaker, Mr. Nestor Binabo, killing one person.
Another  attack on Amanate Turner's house in Opume in  Ogbia local Government area also took place last night.
Although the cause of the attack last is not known, it was confirmed to by our sources that Turner is the Chairman of Federal Inland Waterways Authority, and a close ally of President Goodluck Jonathan.
The incident has been confirmed by the State Police Commissioner Mr. Onuoha Uka Uduoka.He refused to give further details.
However, it was learnt that following the state of insecurity in the state, a stakeholders' security meeting was held in Yenagoa over the attacks and the recent killings in the state.
The meeting was attended by ex-militant leaders  to settle whatever disagreement that may have arisen among them.
According PMNEWS sources, the meeting was attended by former General Boyloaf , Ogunbus, Deputy President Ijaw Youths Council, IYC, Preye Agama, IYC Chairman, Central Zone, Jonathan Lokpobiri, Assistant Commissioner of Police, leaders of youth groups and other top security chiefs in the state.
The stakeholders expressed bitterness at the spate of killings, saying it was unacceptable.
The stakeholders agreed that while compromise has been reached, any person or rival group that breaches the peace would face the wrath of the law.
It was agreed that a collective mechanism has been put in place to fish out anybody or group that disregard the resolution.
The Action Congress (AC) reacting to the development said there was abundant evidence to show that there were security lapses in Bayelsa.
The party in a statement by its Chairman, Mr. Miriki Ebikibina noted that it was sad for killings and attacks on houses of political office holders to be going on in Bayelsa where there is heavy presence of men of the Joint Military Task Force (JTF) and the police.
The party said the insecurity creeping into Bayelsa was an indictment on the capability of the security operatives to protect lives and property in the state.
He urged the Presidency and the Inspector- General of police to act swiftly, adding that the security situation was snowballing into a dangerous situation that might consume the whole state.
AC said the Presidency should not wait till innocent and defenseless people were killed before acting.
Lokpobiri said that "We have resolved that any gun shot fired in Yenagoa or any of our communities, the leaders should fish out the person or group under the supervision of IYC,and all of us will collectively flush them out."
—Okafor Ofiebor/Port Harcourt
Load more