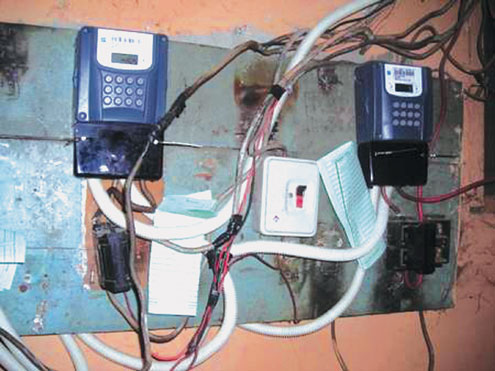 Some Consumers of electricity in different parts of Lagos, last week narrated the pains and agony they go through in the hands Power Holding Company of Nigeria (PHCN). Some told stories of years of blackout while others shared their experiences of having to pay for the electricity they never consumed.
The opportunity to narrate their ordeal was made possible by the Consumer Advocacy Forum of Nigeria (CAFON). The Non-government organization dedicated to the protection of consumer's rights, as part of its regular monthly forum, last week, brought some top officials of PHCN Ikeja Zone to a forum to hear the complaints of their consumers and respond to them. The event was held at the LTV hall, Agidingbi, Ikeja.
Some consumers from Mushin distribution zone comprising Ijesha, Mushin, Surulere and Itire, told the forum that  electricity supply in the area has worsened.
According to the consumers, while most parts of Lagos are celebrating the improved supply of electricity, Mushin distribution zone cannot boast of two hours of electricity supply.
A man from Ijaye, Akin Adeyemi told the forum that he paid for meter since 2006 but has not been able to get the meter.
Akin who said he had been to the PHCN office in his area over the issue, his inability to get the meter he paid for has made the officials to place him on an estimated billing system ever since.
Narrating his ordeal, Akin said: "These people (PHCN) are terrible. I paid for meter for years now but they won't give it to me. Then they put me on estimated bill. Every month they bring ridiculous bill for me to pay. I can't even count the number of times I have been to their office. Really am tired."
A woman, Mrs. Beatrice Okoro who resides in Amowu-Odofin told the forum that she does not understand where PHCN officials get the bill they send to her House every month.   According to Mrs. Okoro, PHCN officials never come to her house to read her bill but keep sending outrageous bills to her.
"Last month it was N11, 000, this month it is N7, 000. What do I have in the house that I will be consuming a N7, 900 worth of electricty bill for a month? I don't know where they manufacture those bills from."
Another consumer, Musa Baba, who resides in Maryland, told the forum that when he moved into his new apartment, he met a prepaid meter. He said he was initially happy about the prepaid meter when he moved in but the current problems he now faces in recharging the meter is becoming worrisome.
According to Musa, anytime he goes to buy prepaid recharge card for the meter, he is made to pay an additional N1000 for meter maintenance.
"Why should they be charging me maintenance fee? What are they maintaining? This is outright fraud and the government should look in it."
Responding to some of the complaints, the public relations officer, PHCN Ikeja Zone, Mr. Peju Adeyoju, assured the consumers that all their complaints will be looked into  immediately.
The coordinator of CAFON, Mrs Shola Solako pleaded with other top officials of PHCN to train their marketers on how to attend to their customers as some of them are the cause of the problem consumers face.
Load more