In a dramatic move to avert his impending extradition from the United Kingdom where he fled to on the eve of the arrest and detention of his colleagues,  Erastus Akingbola, the managing director of Intercontinental Bank PLC, returned back to Nigeria and surrendered himself to the Economic and Financial Crimes Commission, EFCC,  this morning.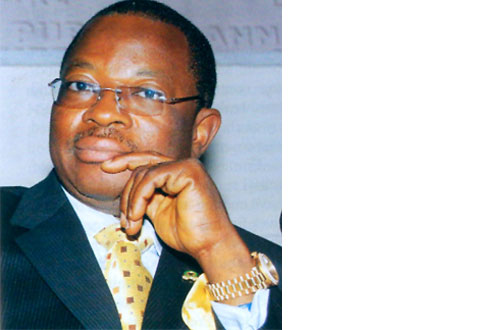 He went to the EFCC headquarters in Abuja, capital of Nigeria, in the company of his lawyer, Mr. Fagbohungbe, a Senior Advocate of Nigeria, SAN.
Mr. Femi Babafemi, the spokesman for the anti-graft agency told P.M.NEWS that the embattled former Chief Executive Officer of Intercontinental Bank Plc arrived at the Abuja Headquarters of the agency at about 10 a.m. in the company of his lawyer and surrendered himself.
The image maker stated that Akingbola was well aware of the implications of his being extradited and so took steps to forestall the process which he said would have been completed in about two weeks' time had he not returned back to the country. The extradition process was initiated by the anti-graft commission to smoke out the runaway bank chief from his hiding place.
At the time of filing this report, Akingbola was still being interrogated by operatives of the Commission and it is likely that he will be spending quite sometime with the operatives of the commission in the grilling session.
EFCC had earlier filed a 23-count charge of money laundering and criminal enrichment against Mr. Akingbola before a Federal High Court in Lagos. According to Mr. Babafemi, the charges may likely be amended in view of new discoveries being made from the grilling session.
The anti-graft commission earlier on had deployed two tactical teams to comb Lagos and Abuja for the returnee former bank chief but their job directives were cancelled following the dramatic turn of events this morning as Akingbola surrendered himself to the commission.
Akingbola was declared wanted last year following his refusal to honour invitation of the EFCC to answer money laundering charge levelled against him by the commission. His bank accounts were frozen earlier this year.
—Nnamdi Felix / Abuja
Load more