The Speaker of the House of Representatives, Hon. Dimeji Bankole, has been warned not to play politics with the welfare of the people of Ogun State.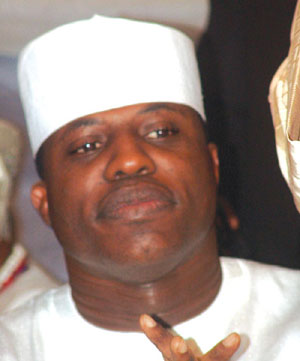 A statement signed by the Chairman, Dayo Ogunlana and Gbenga Soloki, Director, Media and Publicity of the Coalition of Oodua Self Determination Groups (COSEG), stated that all political gladiators in the state must ensure that they work together for the interest of the people of the state.
COSEG disclosed that the influence of the Speaker of the House of Representatives has not been felt by the people of the state. "He engages in unnecessary bickering with the governor of the state, which has not allowed the dividends of democracy to be felt by the people," the coalition added.
The coalition also berated Bankole for his role in thwarting the effort of the state government to access the bond market, in order to develop the state.
According to COSEG: "We have watched with dismay, the negative roles of Hon. Dimeji Bankole in Ogun State. We wish to state that Hon. Bankole, being the highest ranking Yoruba office holder from Ogun State, should have attracted federal government attention not only to his state, but the entire Southwest.
"However, contrary is the case. He engages in unnecessary power tussle with the governor of the state."
On the face-off between the Speaker and Governor Daniel during the commissioning of the Sango-Ota bridge, the group condemned the speaker's action, and described it as an affront on the governor.
"Such an action is not expected of the number four person in the country. From the reports gathered so far on the incident, such an action cannot be justified," it stated.
Load more