Current African Queen of the track, Nigeria's Blessing Okagbare says she would not have achieved the feat recorded at the just concluded 17th African Athletics Championships in Nairobi, Kenya, if not for God who has been her strength.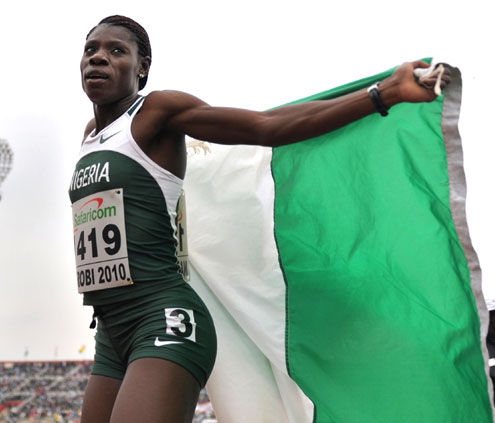 The Former and current UTEP track and field standouts won gold last weekend.
Olympic medalist and four-time NCAA champion, Okagbare was the star for Team Nigeria at the African Championships. Okagbare broke a 12-year old championship record when she crossed the finish line in the women's 100m with a time of 11.03 for the first position. The Beijing Olympics bronze medalist also took gold in the long jump and was the anchor in the first place 4x100m relay that also set a championship record with a time of 43.45.
"It's God in me that did all these that you are seeing me doing," said Okagbare, when Team Nigeria returned from Kenya early this week.
"I'm happy to have done a good job for my country and I believe I'll be glad to do more for for my fatherland," she said.
Oludamola Osayomi was also part of the 400m relay and took the 200-meter dash crown with a time of 23.36. Osayomi was third in the women's 100m.
Current UTEP sprinter Anderson Mutegi finished sixth in the men's 200m (20.81) and the 400m (45.62) for Kenya. Mutegi ran the second leg for the Kenyan 4x100m relay that finished fourth (39.40).
Endurance Abinuwa, who will enter her junior season as a Miner in the upcoming athletics season, clocked in at 23.73 in the women's 200m for a fifth-place finish.
Taiwo Adelu

Load more