SuperSport United Football Club of South Africa's pintsized forward, Snethemba Ngidi, reminded fans, who watched his team played against  FC Utrecht of Holland at the Lagos International Youth Cup at the Teslim Balogun Stadium, Lagos, Nigeria, of South Africa 2010 World Cup with his dribbles, passes, tackle, incisiveness and penchant for goals.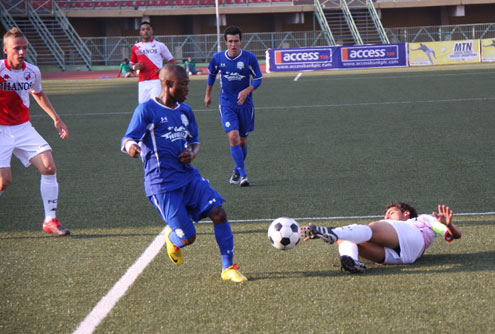 Nigidi, who said his role model is Cote D'Ivore and Chelsea of England forward, Didier Drogba, stole the hearts of the less than 500 fans at the stadium with the way he dribbled, controlled and moved with the ball just as if nothing was at stake. But truly something was at stake: his team did not set out to lose their first game in the round-robin match, which also has the hosts, Lagos United and Liberty Academy of Ghana in the competition.
It was barely few minutes after the centre referee, Jelili Ogunmuyiwa, blew the whistle to signal the kick off of the encounter, that Ngidi, who scored a hat trick, started thrilling fans with his mesmerizing moves.
The 17- year old was very impressive in the match that whenever he has possesion of the ball the fans would scream Jabulani! Vuvuzela! Tshabalala!
As if that was not enough, if an opponent was coming his way the fans would shout Jabulani ge (meaning Ngidi dribble him) to scare off his opponent. But deespite these, the attacker was not carried away by the praises showered on him. He remained focused on the game.
Before he was substituted, he netted the fourth goal, which can be likened to the way  Drogba normally finds the back of the net, for both his club and country.
At the end of the entertaining game, which ended  4-1in favour of his club, Ngidi jubilated when he was presented with the match ball for scoring a hat trick. According to him, the award was unexpected but was happy to have clinched it.
Shortly after the match, when this reporter asked him how he felt scoring a hat trick, he breathed deeply and said: "I feel good scoring three goals, it wasn't easy and I want to thank the fans for their support. I'm very happy to be heading back to South Africa at the end of the competition with this ball."
The elated attacker also disclosed that  Drogba is his role model. He said he likes watching Drogba play because he admires the way he scores goals.

—Adebobola  Alawode
Load more