Just as Enyimba International finished first on the Nigeria Premier League table after the regular season last month, the Aba-based club are dictating the pace at the 2010 Super 4, which commenced yesterday in Ijebu-Ode.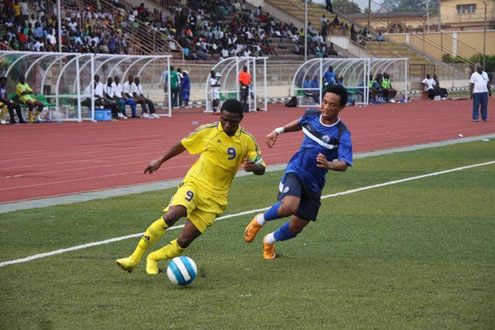 The People's Elephant, as Enyimba are fondly called dimmed the stars in Sunshine Football Club of Akure by defeating them 1-0 in the second match played at the Ijebu-Ode Stadium.
Atanda Shakibu, who emerged as hero of Day One at the Super 4, scored the only goal which sent the scanty crowd celebrating at the recently built stadium in Ijebu-Ode.
The light skin player hit target off a counter attack when Sunshines' Dele Oludare and Ganiyu Anifowose lost possession deep in Enyimba's rear in the 32nd minute.
A patiently waiting Shakibu grabbed the ball around the box and without hesitation, unleashed a shot that caught goalkeeper Sunday Makama off guard.
Makama attempted a save but the striker's shot was too fast for him to stop. The first half goal however incraesed the tempo of the tie, with skipper Godfrey Oboaboa and his teammates from Akure playing the ball more in the vital area of their Aba opponents.
Some goal scoring chances were created through the process but Olorundare and Anifowoshe failed to convert them into goals.
Even, Sunshine Coach Solomon Ogbeide, who is known for changing the result of such a crucial game to the advantage of his team exhausted his ideas but Enyimba maintained their lone goal till the end.
The introduction of Seyi Oluwafemi and Ifeanyi Inyam only paved the way for more ball possession by Sunsgine players, but The People's Elepahant, led by captain Okey Odita frustrated their opponents in front of their goal area.
The entertaining encounter was timely as it compensated the Ogun State fans, who watched a very drab opening game between Kano Pillars and Kwara United of Ilorin earlier.
The first match ended goalless, leaving Pillars and Kwara United on the second and third positions with a point apiece while Enyimba are on top with maximum three points.
—Tunde Oyedele, Ijebu-Ode
Load more