Atanda Shakibu, scorer of Enyimba's lone goal against Sunshine Stars in yesterday's second Super 4 match spoke in this interview with Tunde Oyedele about the players' resolve to bring back the club to their winning ways once again.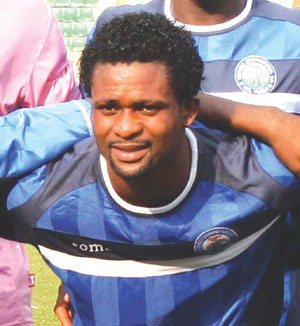 You were carried shoulder high by the fans after the match against Sunshine, that should be a sign that Enyimba are comfortable in Ijebu-Ode?
Yes, the fans came to show their appreciation for the only goal they have seen so far in the Super 4.
I feel honoured and elated that my goal against Sunshine made them happy. I think we are on course to consolidate our leadership position at the end of last season. The Ijebu-Ode fans will enjoy our stay here and we appreciate their support.
You watched the opening match between Kano Pillars and Kwara United before your match with Sunshine, who in your estimation have the potential to win the Super 4?
I'm not going to be sentimental about this question, the truth is that the four clubs in Ijebu-Ode have equal chances because they are the best in the Nigeria Premier League as at today. But, we the players have resolved to win the shield and our victory against Sunshine showed we are on course.
Enyimba lost out of the Confederation Cup at a time soccer loving Nigerians thought the club would progress to the group stage. Do you agree with the statement of the management that you players, especially the ones at large, caused it all?
All of us are responsible for what happened to the club at the end of last season. Football is a joint business, we played to ensure Enyimba finished first on the table and also tried to go for the Confederation Cup, but crashed at the crucial time. It's okay, here we are, the Super 4 is on and it's our resolve as a team to bring back the glory of Enyimba. We players will restore the pride of the club both in the Nigerian League and the next CAF Champions League. That's a promise to our fans all over the world.
Load more