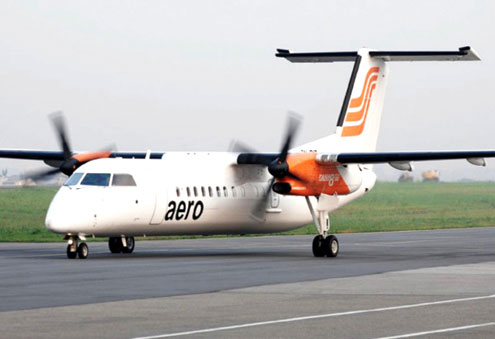 Following its controversial and non-passenger friendly measures which lead to frequent altercations between the staff and dissatisfied passengers, Aero Contractors airline has announced that it will start blacklisting unruly travellers.
P.M.NEWS checks revealed that while other airlines give air travellers free snacks on board, Aero Contractors sells same to passengers. Daily, there are squabbles between the staff and angry passengers.
The airline also does not refund money to passengers who book online and miss their flights. The galling thing, passengers say, is that they are made to pay more than N6,000 to reschedule a flight after an online booking while Aero Contractors is not fined when a flight is cancelled or delayed.
Yesterday for instance, there were arguments between staff of the airline and passengers when an Abuja-bound flight scheduled to leave Lagos at 1.45 p.m. took off about an hour later.
The airline announced the delay by 2.10 pm without an apology, a passenger on board told P.M.NEWS last night.
The decision to blacklist unruly passengers, according to the airline, was informed by an increase in air rage against its staff by some unruly travellers.
Air rage encompasses a wide variety of behaviours from passengers that pose a serious threat to safety of persons on flight, the airline said.
The vast majority involves relatively simple acts of defiance, but sometimes it escalates to truly obnoxious behaviours against airline staff performing their official duties.
The Head of Commercial of Aero, Robert Prophet said: "Henceforth, the airline will practice a zero-tolerance approach to this unacceptable behaviour.
"We are not going to accept any assault from any passenger no matter their status, and such a passenger will be blacklisted and we would ensure that such a person does not fly with us again. We would also request that the Nigerian Civil Aviation Authority (NCAA) blacklists such a passenger and the name of the passenger will be published in the newspaper.
"Workplace assault on employees is unacceptable and will assist the staff by providing civil proceedings against any disruptive passenger."
Robert also called on the other Nigerian carriers to follow suit and protect the workforce through an active "name-them-shame-them" practice.
—Simon Ateba
Load more