Wave making comedienne, singer and actress, Helen Paul a.k.a. Tatafo, speaks with P.M. Entertainment about her success story and other issues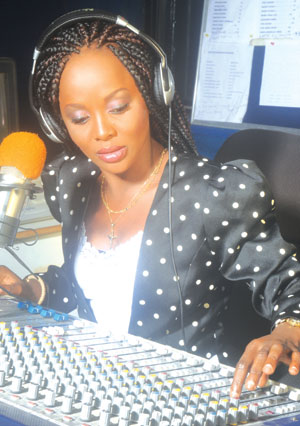 Tatafo has gradually become a household name in the showbiz industry, how did the journey start?
Actually, I didn't plan to give myself the name Tatafo. It was a name given to me by a friend called Matthew. He used to work at Radio Continental, where I work now although we used to work together at Eko F.M., where we were always talking together and because I used to talk a lot, he started calling me Tatafo. When he came to Radio Continental, he invited me for a programme where I can be using that character on radio, but I had to add more comic to it and that was how I started and Tatafo has gone farther than I expected.
The baby-like voice is no doubt your selling point. At what time did you discover that talent in you?
Well, I did not just discover it but I have always been myself. I act, mimic people and make comedy out of what they do. That was how I was doing it until people started calling me for events. The truth of the matter is that it is about being at the right place at the right time.
When did you start as a professional?
I actually started singing between 2004 and 2005 and when  I  discovered that radio is beyond talent and more of journalism where you have to make researches and get information from right sources, I went to the Federal Radio Corporation (FRCN) to study Presentation. That was when I started working professionally.
Tell us some of the jobs you've done as a back-up singer and voice-over artiste?
With advertising agencies, I have done jingles for Cow Bell milk and others. As a back-up  singer, I have sang in  P-Square's Get Squared and a lot of artistes before I started the MC stuff. The first time I performed as an MC  was  at an event  attended by the former Governor of Lagos State, Asiwaju  Bola Ahmed Tinubu, later, A Night of Thousand  Laughs  and other big shows. Everything was just falling in place and I thank God for that.
What was your growing up days like?
My primary school was at Omiyade Primary School, Fadeyi, Lagos and Jibowu High School and later got a transfer to Maryland High School. For one or two reasons, I had to leave Maryland High School to Bejide Memorial College, Ojo. This was because I left my grand mother's place. I am currently a student of the University of Lagos, studying Theatre Arts. My growing up was not too fantastic, but at the same time, I give God the glory. I wasn't born with a silver spoon in my mouth, but I had people who were very loving that took care of me. I grew up with my grandmother, who is a disciplinarian to the core. I could not express myself while growing up because if you dare move out of Mama's sight, you are in trouble. But I thank God today because, if not for those things that she did to me then, I wouldn't  have been  where  I am  now—a strong and  better person growing up. It was when I started living with my mom that she gave me freedom of speech. Because I was with my grand mom, I received less care and felt dejected.
Unlike most of your colleagues in the showbiz industry, you got married to Femi Bamisile at a time your  career was  blossoming. Why did you make such decision?
Getting married is actually one of the gifts that God gives to you when you are stepping up. It just happened, not that I really planned for it. He is my friend and we are just like friends living together. Sincerely speaking, he is just a blessing God gave to me.
How did you meet him and when he proposed to you, how did you feel?
We were friends and I was calling him 'Brother Femi' at first. But when he decided to remove the 'Brother,' I started saying 'Femi bawoni… and when he told me about marriage, I was just started laughing.
And you were not scared if he wanted to use and dump you?
All along, I had known him to be a man of his words, so I was just optimistic that he was serious and that was it.
If you are to describe him in one or two words, what will it be?
He is my father.
You are currently one of the most sought-after humour merchants in the country right now, do you think the industry has come of age?
I will not say it has come of age, but the truth is that we are growing. We all know how the country is, so we have been creating comic out of it and at the same time enlightening the people. As comedians, it is our duty to be creative, bring out something and let people laugh.
Who are your role models in the industry?
I respect Ali Baba a lot  because he is very creative. My respect to AY for the way he organises his shows. I also respect Julius Agwu for his creativity too. He is very funny and creative. I love Omobaba because of his funny looks. He doesn't have to talk before you will start laughing. There are other people too like Mandy, Princess and Lepacious Bose, because they have been on the field and they encourage me.
Most kids who are your fans as Tatafo actually thought you are peers and were surprised to hear that you are married, just the way they did when Aki & Pawpaw play adult roles in movies. How do you try to draw the lines?
I am a Theatre Arts student and made to understand something about character and characterisation. Tatafo is a kid character on radio, representing the kids. That is why most of the time, when I present programmes on TV I use Helen Paul. Tatafo is a kid on radio, while Helen Paul is on TV as a comedian, so they are two different brands. So it was Helen Paul that got married and not Tatafo.
Is there any similarity between Helen Paul and Tatafo at all?
Tatafo is a child that is so emotional and speaks her mind, but Helen Paul is a comedian and an adult. What Helen Paul does not like is when people misinterpret her or when they take her for granted because she is the playful type on stage. Many people don't actually know the difference between you when on stage and on the street. Some people, instead of just greeting you, go as far as slapping you and you may not be in the right mood to endure that, while some will just say 'hey, Tatafo, come here!' And to make matters worse, I have a small stature. Some will even pull my ear, forgetting that I am not a kid. But I shouldn't be angry because it is a testimony to the fact that I have been playing the character very well. Theatre itself is suspension of disbelief, so for me to act and people suspend their disbelief and think that I am a small girl, means I am doing my job well.
Your happiest moment?
It was the day I got married and saw a lot of people I was not expecting to see.
What are you working on at the moment?
My outfit. Paul Helen's Production is working on a project aimed at giving back to the society. It is a project that will be created to make public school students happy and believe in themselves.
—Bayo Adetu
Load more