It was an unbridled joy for the families of Alhaji Bashiru Usman and his wife Hajiya Aminat Usman both indigenes of Sokoto but based in Ikorodu, Lagos, Nigeria, yesterday as their six-year old son Abdul Mumuni Usman was found hale and hearty, after missing for 15 days.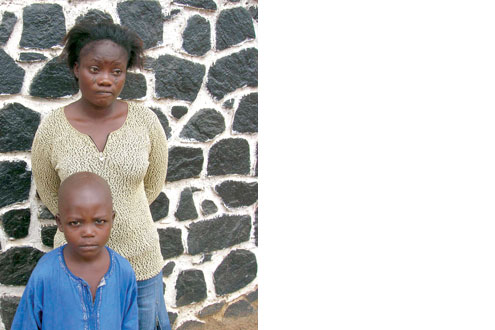 He was found in company of his suspected abductor, Ms. Temitope Egbetade, in Odogunyan, Ikorodu.
According to the boy's parents, Abdul Mumuni, a primary one pupil of an Ikorodu public school, came back from the school on the fateful day and was playing in front of their house at Aleje Street, near's Garage Bus Stop, Ikorodu when he disappeared. They started searching for the boy but to no avail.
They reported to the police at Shagamu Road Police Division.
They searched for the boy until yesterday when a neighbour brought the boy and a lady in whose custody the boy was found.
According to Alhaji Usman, he immediately took them to the police at Shagamu road divisional headquarters where the case was reported.
Speaking on how he got missing, the boy said he saw the lady near the salon of a hair dresser in front of their house where he lives with his grandmum called Iya Jeda.
He said the lady (kidnapper), called him and gave him sweet and asked him to follow her to the next street, thinking that she just wanted to buy something for him as she promised but took him to where they boarded a vehicle.
He was taken to a woman  where they changed his name to Emma and asked him to always answer 'ma' whenever they called him.
They were already planning to take him to Ibadan when the little boy saw a mechanic he knows around their house at Odogunyan bus stop who raised alarm and took the boy and the woman to their house at garage area.
The woman kidnapper was later handed over to the police at Shagamu road Police Divisional Headquarters.
Answering questions from our reporter, the suspect introduced herself as Ms. Temitope Egbetade.
The 24-year old lady said she sells ready-made ladies' wears she hails from Ikire in Osun State.
She did not deny kidnapping the boy but said she had no evil intention for the boy. But she could not give reason why she kidnapped the boy.
When asked where she lives, she said she puts up with her friend whose name is Toyin, at No.10, Celestial Street, Odogunyan, Ikorodu.
However, our investigation revealed that her friend escaped immediately she heard that the suspect had been arrested.
Our source at the police station said the suspect will soon appear in court.
—Debo Adejayan
Load more