The pervasive poverty in Nigeria has resulted in the rush for white men by Nigerian girls and this is fast growing in the country, P.M.NEWS can confirm.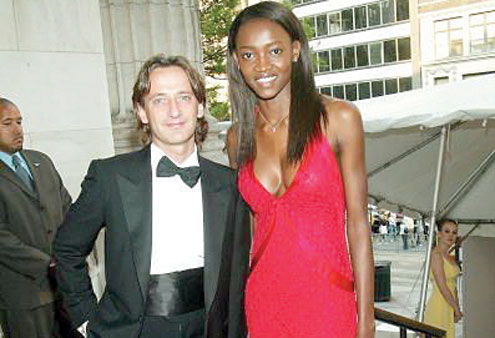 While some of these girls are undergraduates in various higher institutions of learning in the country, others are just trying to make ends meet.
Some of these white men are in Nigeria for greener pastures while others are called upon by companies operating in the country to take up jobs because of their technical know-how.
The girls often meet these men, a term used to describe Europeans, White Americans and Asians, in places like night clubs, bars, shopping malls and parties.
One of the girls,  Osagie Ruth, confirmed that Nigerian girls prefer white men because they spend money without thinking twice. He also said they were more romantic.
Citing an instance, Ruth, who is excited about having white men as lovers, said she has vowed never to date any black man until when she is ready for marriage.
According to her, this vow became necessary after experiencing several heartbreaks with Nigerian men.
"Can you believe that the last one I dated was a married man with three kids? He never told me he was married until I almost got lynched by his wife who saw  us while we were in the heat of passion in his supposed house.
"I would have been dead by now. The worst part of it was that he hardly gave me money for my upkeep and he monitored my daily activities as if  I was in prison custody, yet I stayed in the relationship as I needed a man desperately," she explained.
She said she was introduced into the "business" by a friend and since then she has "been living in the sweetest world.
"I now have a Honda car and a well furnished apartment."
Another girl, who maintained anonymity said she prefers dating white men because "they are more understanding and they give us freedom to do a lot of things compared to their Nigerian counterparts."
She said she could date other men and engage in other ventures that would fetch her money without the prying eyes of her white guys. But that is not the case with the Nigerian men, who she described as greedy and crooked in their love life.
"They prefer hiding you somewhere and doing it only in secret places with you for fear of being recognised by other people.
"But the white men are always proud to move around with you openly. They are proud of what they have even if we are only with them for money."
Asked why she loves dating only white men, Philomena Okeke, an undergraduate, retorted: "Why I no go date them? Even if they look like albinos, it is a matter of closing my eyes when we are having fun. I begin to think of black people when it is happening.
"Though I hate them, I need their money. I have also had many heartbreaks from Nigerian men and I decided to give the whites a try.  I have no regrets so far."
P.M.NEWS also gathered from the girls that not all the white men are nice. The ones from Asian countries, India and Lebanon do not like to spend. According to some of the girls, men from these areas prefer paying peanuts after satisfying themselves.
"When dealing with people from these areas, we collect our money first. I am not an animashaun (meaning free giver in Yoruba)" one of the girls, who was seen hanging out with a white man in an eatery told P.M. NEWS.
However, some of the white men are said to be so happy with the ladies that they could go as far as buying houses and cars for them and sending them on vacation abroad.
Ijeoma, a 28-year old lady, who now has two kids for a white man residing in the country, agreed that the reasons for the preference varied.
According to her, "one thing that a black girl sees in a white guy is money in this part of the world because of poverty.
"For others, they want to be seen that they are powerful girls that can trap a white guy. Others want to have a white baby, get married and have security.
"Sometimes, a white guy in Africa might be having a hard time and the next thing on his mind is to go out and bang just any girl. You will find such guys mostly around bars, clubs, etc.
"Now, the girl in return wants a guy to sell her body too and get some few change and they talk, arrange to meet and he takes her to his place and they have sex. He pays her off and other times, there is a huge argument, the girl wants more money probably because she knows she will never see him again and instead of taking N5,000 she will demand for N50,000.
"These white guys also get better pay and remember, they are expatriates, and while their families are abroad, they need to have fun and they discovered that there are loads of loose girls here.
"The second type of girls that go for white guys want to be perceived as powerful, big girls. They travel with the white men, live high class life and have a good sex life. You see these girls driving powerful cars and living in high brow areas of the city."
—Eromosele Ebhomele & Rukayat Igbanor
Load more