Paul and Peter Okoye a.k.a. P-Square, have described their tour of USA as one of the most successful tours, having  performed in seven major states including Los Angeles, Maryland, Toronto in Canada and New York.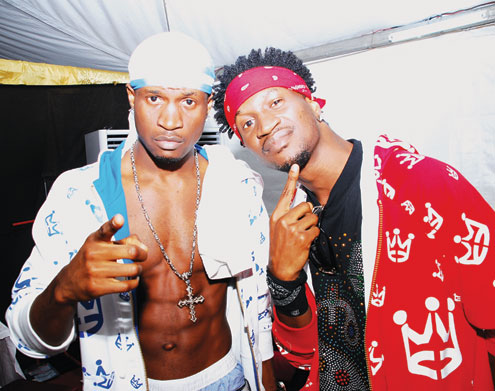 All the shows were sold out and the least time the group spent on stage in each of the shows was two and half hours.
In fact, it was gathered that the Maryland show was almost cancelled because the crowd that besieged the venue to watch the Nigerian music stars was larger than the capacity of the venue.
During one of their performances, Peter was almost mobbed by some excited female fans, but was rescued by security agents after the fans almost stripped him.
According to Peter, he and his twin brother, Paul, are yet to find the right words to describe the success of the tour, which has prompted American star singer, Drake, to approach them for a deal.
"I don't actually know how to explain how successful the tour was because aside the fact that all the shows were sold out, the passion shown by the fans, particularly the white ones, was incredible. I never knew Americans love us that much. Surprisingly, they knew the lyrics of our songs and were singing along with us," Peter hinted.
P-Square and its 12-man band, including dancers and two body guards, were treated like kings while the tour lasted. Aside being lodged in five star hotels, the tour organisers provided a Limousine ride and tight security for the Nigerian music stars all through their stay in President Barack Obama's country.
Due to popular demand, P-Square is expected to embark on another tour next year, when their performance train is expected to move to other American cities like Ohio, Chicago and Atlanta, where their fans are eagerly waiting to see them perform.
"They actually wanted us to visit all the cities before coming back to Nigeria, but we insisted that it should be postponed till next year because there are things we need to attend to back home," said Peter.
Meanwhile, the multiple award-winning singers have finally moved into their N300 million mansion on Lola Holloway Street, Omole Estate Phase 1.
As part of the plans to move into the mansion in style, automobiles outfit, Coscharis, has delivered four brand new wonder-on-wheels to P-Square's garage.
The new automobiles are a Range Rover, one X6 BMW and a Jaguar, all 2010 models. They cost N65 million.

—Bayo Adetu
Load more