The 5th Annual Congress of the Nigeria Premier League, NPL held weekend at the Gateway Stadium,Ijebu-Ode was marred by the lingering crisis rocking the country's league since the beginning of last season.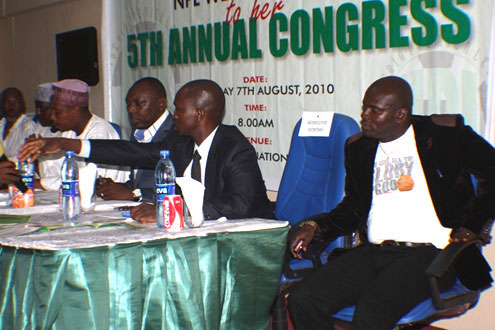 The Congress, held behind closed doors and headed by newly elected Chairman, Davidson Owumi lasted for more about five hours, two and a half hours more than its stipulated time because the officials failed to reach a compromise on some unresolved issues.
The Congress, which met to ratify the relegation of some clubs, including Bayelsa United, nearly lost its bearing when the chairman of Bayelsa, Victor Baribote and some aggrieved members of NPL threw caution into the wind.
Tables and chairs inside the Press' Mix Zone, venue of the Congress were turned upside down by Baribote and his aggrieved colleagues, who claimed that Owumi has no locus-standi to adjudicate on the annual event of the Premier League body.
While the crisis was dragging, and about to enter what looked a a physical combat between Baribote and other officials, a distress call was made to the former NPL boss, Oyuiki Obaseki, who quickly came to rescue the situation.
Obaseki, in his wisdom managed the occasion by urging the aggrieved members of the body to embrace and support Owumi, whom he described as an authentic Chairman of NPL.
"I attended the NPL elections and saw that Owumi's election was democratic. The election was free and fair and so, there is no reason to fight or disturb him from doing his legitimate duties", Obaseki told the Congress.
Baribote,however left the venue in anger, insisting that he would ensure Owumi is removed from his position, adding that his club, Bayelsa would not play in the lower division this season.
By Tunde Oyedele,Ijebu-Ode
Load more