England star soccer Peter Crouch has landed in trouble following his steamy sex session with a prostitute in Madrid, Spain.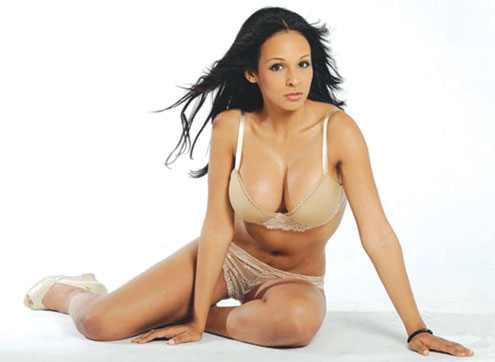 The News of the World reports that Crouch cheated on model fiancée Abbey Clancy with the 19-year-old hooker.
The gangly Tottenham Spurs striker paid more than £800 for two sordid romps with Monica Mint on a stag weekend in Madrid.
She told the News of the World: "He seemed nice so I let him take control."
His betrayal came just days after he returned from a romantic trip with stunning Abbey.
Crouch handed over cash to petite Monica for a sex act in the back of a taxi and THEN bedded her at a downmarket hotel in the Spanish capital.
In an exclusive interview with the News of the World, Monica said: "Peter had no hesitation in paying to have sex with me. He wasn't nervous.
"I didn't know he was engaged to Abbey until afterwards. I can't believe he paid for sex with someone like me when he has a gorgeous woman like her at home."
Monica told how the popular player, known to millions of football fans as Crouchy:
DEMANDED the sex act in the taxi despite knowing passing drivers might see them as they travelled through central Madrid.
GASPED with desire as he admired Monica's naked body, crying out, 'Oh my God… it's beautiful.'
INSISTED on taking her mobile number in case he fancied a replay.
Begged hotel staff to strike his name from their records in a bid to cover his tracks.
Crouch headed to Madrid on a stag weekend for close friend Ed Aitkin on Friday, July 16, two days after returning from Sardinia with TV beauty and model Abbey, 24.
It was on July 16 a year earlier that they announced their engagement, again after a trip to Sardinia.
These revelations will horrify Abbey, who co-hosted James Corden's World Cup Live shows.
Victoria Beckham threw a 30th birthday party for hubby David there in May 2005 when he was playing for Real Madrid.
Monica has been working as a hooker for a year since moving to Spain from Algeria. The 5ft 3ins brunette told us: "I'd gone to meet another client but a couple of the public relations staff told me it could be good to go after Peter.
"When I was dancing Peter came over to me. Someone said he was drunk, I thought he was just tipsy. He seemed friendly. He was trying to do salsa dancing and it looked hilarious because he's so tall.
"We started dancing together. He was touching my back, bum, hips and boobs. He kept looking at my body and saying, 'Beautiful'.
"He wanted to give me a drink from his table. When I bought myself a Coke he came over and said, 'Why would you do that when I said I would give you a drink?'
"When I realised my other client wasn't coming I joined Peter and his friends in their roped-off VIP section. I still had to work.
"Peter was paying for everything. They were drinking from a two-litre bottle of vodka and I could see an empty bottle of champagne.
"At first I thought he was a basketball player because he's so tall. But people told me he had played football for Liverpool.
"I speak Spanish and only a little English so his friend did some translation. I told him I was an escort. The friend asked how much I charged. Then he said Peter wanted my number.
"I gave it to him. I presumed that meant he would want to see me another time.
"I was wearing skinny jeans and a low-cut black body with no underwear on underneath. He put his hands inside my top to feel my boobs a couple of times.
"They aren't real. I've had two boobs jobs and gone up to a 34D. He seemed to really like them. He was wearing jeans and a shirt and those pointy black dress shoes all Englishmen wear. They're horrible!
"His friend asked me, 'You like?' I knew he was asking if I wanted to have sex with him. I said, 'Yes'. Peter said, 'You and me go,' then paid for the drinks for his friends."
Monica was ushered out of the nightspot by club staff at 4.30am.
She said: "I was put into a taxi with Peter. I felt quite insecure. It was all very rushed. Peter was getting text messages on his BlackBerry. He was struggling to read them because he was quite drunk.
"He showed me a photo of him with a woman's blonde hair draped over his head. It was funny because he looked like a girl. He was wearing lipstick. He told me the hair belonged to his ex-girlfriend. I think the girl must have been Abbey.
"In the taxi we discussed again how much it would cost for sex. I usually charge a thousand Euros for a night.
"Because I only speak broken English, the taxi driver acted as a translator. Peter said he didn't want an entire night, just an hour, because he wanted to get back to his friends. But we agreed on 1,000 Euros (£829). The taxi driver acted as the go-between. He counted it out then gave it to me.
"Peter said we couldn't go to his hotel (the Petit Palace Londres) because he was sharing a room. He suggested going to my house but I don't like taking new customers home, so I told the driver to take us to the nearest hotel."
It was on the way to the hotel in the taxi that Crouch asked for the sex act.
Monica said: "He wasn't nervous at all. Men are usually nervous if it is their first time with a prostitute. He kissed me, but he wasn't a good kisser. I only kiss clients if they are young and cute.
"He pulled my top down so he could see my breasts even though I'd said, 'No, no, it's a taxi'. Then he undid his trousers and indicated what he wanted me to do. I did as he asked for about 15 minutes.
"We stopped at traffic lights while I was doing what he wanted and he didn't seem to mind that people could have seen him.
"Because he is so tall his legs were squashed up and the taxi driver was making jokes because our movements were shaking his seat."
The cabbie told how he recognised Crouch immediately. The driver, who asked not to be named, said: "I'm a big football fan, so I knew it was Peter Crouch as soon as he came into my taxi." He confirmed that Monica performed the sex act on the seat behind him.
"I couldn't believe they were doing it in the taxi," he said. "I acted as a translator for them and at one point Monica asked me to confirm the price with Peter.
"I have a receipt book where Monica wrote 1,000 Euros on the back, so that Peter was clear how much she would cost. Before they went into the hotel, Peter gave me the money to count out in front of them both and hand to her.
"Monica gave me 50 Euros (£41.46) for the trip. Peter wanted me to wait, so I kept my taxi outside the hotel while they were inside."
At 5.30am the pair hired a suite at the 3-star Rafael Hotel in the south of the city for 96 Euros (£79.61).
Load more