Finally, former Speaker of House of Representatives, Alhaji Aminu Masari has ended speculations over his next political destination as he has decided to decamp to the Congress for Progressive Change, CPC.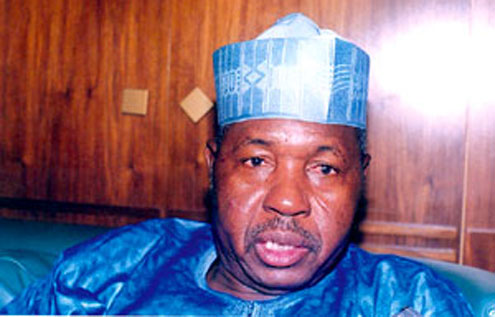 Second Republic Deputy Senate President and a chieftain of CPC, Alhaji Mamman Abubakar Dan Musa, confirmed Masari's formal defection to CPC when he told our correspondent in an interview that the former Speaker would be received by CPC in Katsina tomorrow.
"Any political analyst must agree that the PDP is in confusion. There is confusion everywhere in the PDP. Let me take for instance in my home state Katsina, PDP is in disarray. It will be difficult for them to come together again as the pillars of the party have already left.
"By tomorrow (Tuesday, 10 August), Alhaji Aminu Masari and Alhaji Mustapha Inuwa, former Secretary to Katsina State Government will be formally received into the CPC fold and that is a death toll to the PDP in Katsina state," Mamman Dan Musa told our Correspondent.
As at the time of filing this report, arrangements were in top gear to give Masari a warm reception at the Katsina Headquarters of the CPC.
Before now, Masari, a former PDP chieftain and one of the proponents of anti-zoning in the PDP had secret talks with CPC bigwigs over the possibility of giving him the party's gubernatorial ticket for 2011 elections.
Though it is not clear whether the former Speaker has been made the sole governorship candidate for CPC in the state, one of his supporters who spoke to P.M. NEWS on condition of anonymity, said Masari is eager to pursue his dream of becoming the first citizen of Katsina in 2011 under CPC.
It was gathered that the former Speaker, who was a staunch member of the disbanded PDP Reform Group, took the decision to join CPC so as to wrest power from Ibrahim Shema who usurped Masari's 2007 governorship ambition due to the late President Umaru Yar'Adua factor.
"This time around, we are going to teach Shema and his folks in the PDP a lesson. We want to let them know that gone are the days when small fishes in Katsina politics would come from no-where and pull wool over our eyes," Masari's political associate told P.M.NEWS.
Katsina is the home town of General Muhammadu Buhari, the sole presidential candidate of CPC.
P.M.NEWS gathered that General Buhari is taking his time to shop for a credible candidate that could be acceptable to the Katsina people and give him the glory of having total control of his own state.
"For two consecutive times he has contested presidential elections, they have robbed him of victory in his home state and at the national level; but this time around, it is not going to be business as usual. Come to Katsina tomorrow, you will confirm the fact that CPC has already taken over the state," a CPC loyalists told P.M.NEWS while waving the party's flag.
P.M.NEWS also learnt that last week, there was mass decampment of PDP big shots in Dan Musa Local Government Area of the state into CPC.
Masari's former Chief of Staff, Sadiq Yar'Adua, Senator Audu Yandoma and Senator Mohammed Liman, all from Katsina state had jumped ship into CPC possibly to ensure a soft landing for the former Speaker.
MADUABUCHI NMERIBEH/Katsina
Load more