In recent times across the Lagos metropolis, cloning of Certificate of Occupancy (C of O) for land purchase in the state is now very rampant as unscrupulous and smart guys are having fun and smiling to the banks through this business.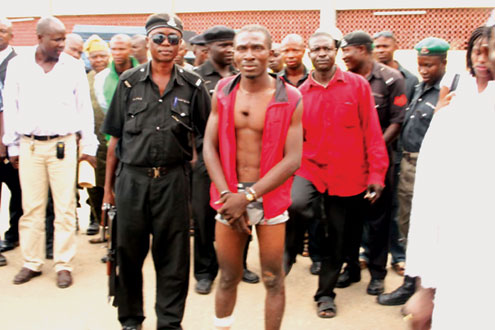 Smart guys easily approach owners of landed properties and promise to help them facilitate acquisition of the C of O to their property rather than going through the bureaucracy of the civil service.
Unsuspecting Lagosians have been made to dole out huge sums of money to the hookers who in turn will forge a C of O with the necessary details and bear striking resemblance to the one issued by the government. The way they penetrate the Land Ministry to get the necessary details about the land transaction is still a mystery yet to be unravelled.
The Lagos State Government is turning grey hair over upsurge of C of O cloning with no clue of who is the syndicate behind this thriving trade. Officials of the Ministry of Lands Bureau are now seen as crooks by the police because some of those arrested in the business have pointed fingers at some of them.
Series of arrests have indicated that some officials of the ministry were suspects in the thriving business, while some are cooling off in detention as the police is thoroughly investigating the brains behind this criminal act.
There have been rampant cases of victims receiving the cloned C of Os and later discover that they were faked but by then, the swindler would have vanished into the thin air. Some banks have unknowing collected cloned C of O as collateral from customers and later discover that such were fake after verifying such with the Ministry of Lands Bureau.
In the last few weeks, series of advertisements had been placed in the newspapers, warning Lagosians to beware of cloned C of O and that they should stop patronising touts who would only turn out to give them the wrong package.
Two weeks ago, a 42-year old ex-convict was arrested over fake C of O by a monitoring team from the Lands Bureau Ministry, who vowed to prosecute him in the court.
To the government, this signified a breakthrough that would eventually lead to the arrest of the kingpin in the business.
The suspect, Ayoola Tosin, said he was arrested in 2007 and jailed for six months for having in his possession fake building approval documents.
According to him, "I was into illegal business of procuring fake Certificates of Occupancy in 2007. The certificates were procured from Oluwole area of Lagos. When I was arrested, I was taken to the state CID, Panti, Yaba, Lagos, where I spent three months in the cell and later sentenced to six months in prison.
"When I was freed, I stopped doing it, but I was shocked when I was passing in front of one Alhaji Bello's house and when he sighted me, he called for my arrest and I was brought here.  I am no longer doing it. I am now into plank business with my brother at Igboho," he said.
Peter Omotosho, a consultant at the Lands Ministry, said the suspect was lying.
"He is lying. We have been on his trail for a very long time. When people like this continue to clone C of O, they keep pointing accusing fingers at those of us at the Lands Bureau," he stated.
Recently, a former intern with the ministry was arrested over fake C of O and was detained at the Isheri Police Station.  On interrogation, he was said to have mentioned some officials of the ministry as being privy to his success in the business, but he did not have enough facts to prove his case.
Last week at the State Criminal Investigation Department (SCID), Panti, Yaba, an arrested suspect named an official of the Lands Ministry as one of those who connived with him in the business. The official was promptly arrested by the police and detained after he had written a statement.
In a bid to curb the rampant cases of fake C of O and the continued pointing of accusing fingers at officers of the Lands Ministry, the authorities drove away the interns with them thinking that they may be privy in the fraud, yet, it did not abate.
Worried by the development, the Permanent Secretary, Ministry of Lands Bureau, Mr. Gbenga Ashafa warned banks to beware of cloned C of O, urging them to ensure they verify any C of O presented by loan seekers as part of their collateral before approving such loans so that they are not giving their facilities to fraudsters.
According to him, there was now an increase in the use of cloned C of O to get loans from the banks, adding that the ministry was worried about the way dubious and desperate loan seekers had been obtaining loans with fake land ownership documents, which financial institutions only discover later after loans had been granted.
"The fraudsters have devised means of perpetrating such fraud through the third Legal Mortgages which is executed without a guarantor having to appear in person.   Financial institutions and banks are advised in their own interest to always ensure due diligence in investigating all title documents presented by parties and individuals who are not the direct owners.
"This is because the fraudsters usually present certificates of occupancy over landed properties purportedly owned by other parties or individuals as collateral," Ashafa stated.
To curb this menace, Ashafa disclosed that the new e-Certificates of Occupancy would soon be launched officially to effectively tackle the fraudulent practices of fraudsters.
Load more