A toddler, Chisaram Goodwill, who was missing for four days, has been found in a  water reservoir.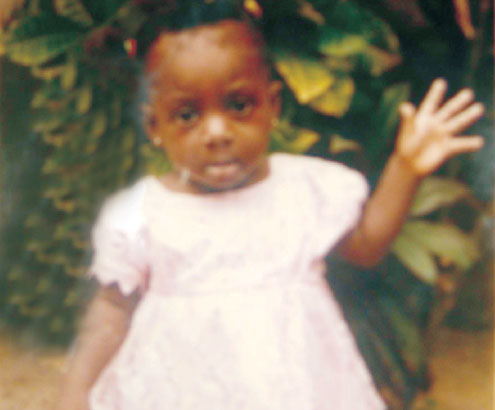 The incident occurred at 9, Aina Street, Igboelerin, Okokomaiko, Lagos State, Nigeria where the parents of the two-year old toddler resides.
Mrs. Ngozika Onyema Goodwill,  the mother of the child, said she left home on Tuesday to buy charcoal in the nearby street, after giving the late Chisaram and her brother food.
"As I was going out, she followed me and  waved to me saying bye bye mum.
"After some time, I noticed she was no longer following me. When I returned from the market and I did not see her at home, I raised an alarm and we started searching for her. I reported the incident at the Okokomaiko Police station that same evening and they promised to look for her.
"But on Saturday, some residents of Irepodun close, the next street to our house, sent for me. They told me they had seen the corpse of my child in a water reservoir. How she entered the water reservoir that was always locked has remained a mystery to me," the victim's mother said.
The residents of Irepodun said that they opened the reservoir when they perceived odour from it, but were surprised when they found the corpse of Chisaram floating inside it.
The police at Okokomaiko said the matter was still under investigation.

—Dedeigbo Ayodeji
Load more