Former military dictator, Gen. Ibrahim Badamasi Babangida has misfired again.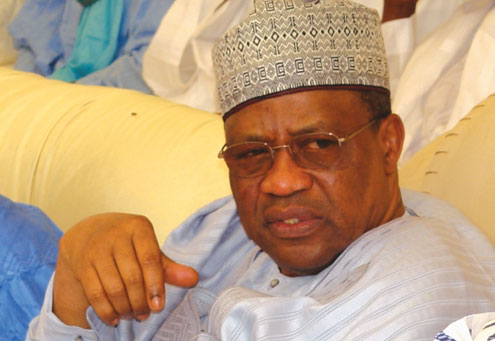 Babangida, also known as IBB, claimed in an interview he granted the Hausa Service of the Voice of America, VOA, yesterday that there's no justification for keeping Major Hamza Al-Mustapha, the former Chief Security Officer, CSO, to Gen. Sani Abacha, in detention for 12 years.
Babangida, who claimed not to know the role Al-Mustapha played in the murderous dictatorship of the late Abacha, said those who detained Al-Mustapha have not been fair to him.
Speaking on the detention, IBB said: "It happened after I left office, but I know him. I have worked with him and I believe and I have said, they have not been fair to him.
"To leave him in detention for the past 12 years is unfair. I am among those calling on the government to release him. This is because what crime he might have committed has not been revealed for the past 12 years. Then there is no justice if he is not released…"
Also, yesterday, while speaking with journalists in Gusau, Babangida tried to gag the press by warning that he should no longer be asked questions bordering on the murder of Dele Giwa, Editor-in-Chief of Newswatch magazine, during his administration in 1986, the annulment of the June 12, 1993 presidential election won by Moshood Abiola, etc.
According to Babangida, "before you start asking me questions, I want to tell you my rules. I have five no-questions-areas, so don't ask me anything relating to such areas: One, the issue of June 12 election; another is anything about Dele Giwa, zoning and so on."
Mr. Bamidele Aturu, rights activist and lawyer lambasted IBB for such a careless statement.
Aturu said it is because he (IBB) himself is moving about freely without being made accountable for similar misdeeds while in government that  he can say anything he likes.
"If our judiciary has held him accountable for the annulment of the June 12, 1993 presidential elections that led to sending many people to their graves prematurely and other crimes against the nation, he will not have the opportunity to make such comment.
"I say his comment is careless because nobody has kept the accused persons in detention for the fun of it, rather, they were the ones that used delay system to frustrate their trial.
"I am not shocked that IBB made such comment. Nigerians have not held him responsible for his actions according to the law. If they have done so, he would not utter such comments.
"I like to warn him and others like him to exercise restraint. Many were dispatched to the great beyond by their actions and the people deserve to know if actually they were guilty or not. But the accused persons were the ones frustrating their trial.
He reiterated his earlier claim that if IBB were sensitive to the plight of many Nigerians who lost their bread winners during the June 12 debacle, he will not make such comment.
Aturu believes IBB could still be brought to book; stressing "IBB and others like him could still be brought to face justice any time we have a serious government in the country."
Constitutional lawyer, Prof. Itse Sagay blamed the former Chief Security Officer, SCO, of the late Head of State, Gen. Abacha for the delay in his trial."
"He exploited the judiciary system to avoid going through trial. He is to blame for the delay in the trial," Prof. Sagay said.
He said IBB and Mustapha belonged to the same class of people who don't have respect for human life and dignity, that was why he could make the comment credited to him.
Prof. Sagay recalled that Mustapha, at the inception of the trial, accused the first judge of receiving bribe thus forcing him to step aside.
Mustapha, he said, also brought up many interlocutory applications all in his effort to delay his trial in the law court.
Joe Igbokwe, in his reaction said: "Al-Mustapha and others committed serious crimes against this nation in the years of the locust. Mustapha was allegedly behind all the high profile murder cases during the June 12 crisis. He became so powerful, even more than the Generals in the army then and treated his superiors with scorn and with levity, taking laws into his own hands with reckless bandon, deciding who must live and die.
"Nigeria became their private estate under Abacha. But eventhough their sins are beyond pardon, considering the enormity of the crimes they committed against the state, I do not think they need to remain in detention forever. If government cannot pin anything on them, let them go home. I am sure that they have learnt the lesson that no condition is permanent and that power is tarnsient."
A  barrister with the Supreme Court, Chris Akiri said he thinks IBB was right, saying Mustapha's trial is about justice delayed is justice denied.
Akiri opined that the trial of Mustapha and others has been delayed, adding that what lawyers are saying was not that he should be discharged and acquitted but that the trial should begin now and end soonest.
Load more