Following the death of a boy in Badagry area of Lagos State, Nigeria as a result of dog bite, the Lagos State Government has vowed to clampdown on stray dogs within the metropolis.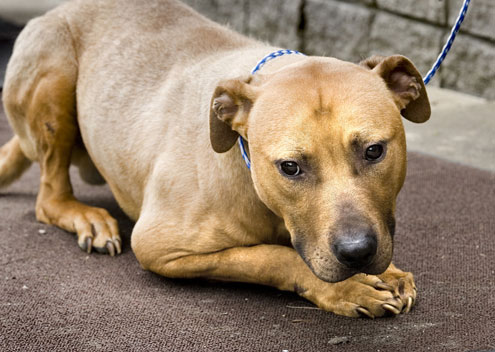 Expressing government anger at the incident, Commissioner for Agriculture, Chief Enock Ajiboso disclosed that a dog bit the boy in Badagry and was rushed to the Badagry General Hospital but died  later after he was withdrawn from the hospital by his parents.
Addressing a news conference, the commissioner lamented that of recent, there had been an increase in cases of dog bite, especially by stray dogs in Badagry area.
"A case in point was that of a young boy bitten by a dog which was immediately shot and killed. The boy was taken to the Badagry General Hospital but died a few days later after he was withdrawn from the hospital by his parents.
"On investigation by the local health officers and which was corroborated by our veterinary officers in charge of Badagry and its environ, symptoms exhibited by the boy prior to his death were consistent with that of suspected rabies which he must have contracted from the dog," he stated.
According to Ajiboso, a dog that went on biting anything it came across was not a normal dog and must be thoroughly investigated, adding that in most cases "where there is unprovoked biting by a dog, especially a dog that is once friendly and all of a sudden becomes unfriendly and bites, then rabies is highly suspected."
Rabies is a viral disease that affects all warm blooded animals. The disease is common among dogs, especially dogs that are not vaccinated against the disease, as well as stray dogs that lack care and the disease is transmitted mainly through bites.
Studies show that if a dog has rabies, it will die within two weeks.  There are symptoms peculiar to dogs infected with rabies, such as excessive salivation, unprovoked and aggressive biting of anything the dog comes across, aggressive feeding of anything that dogs will normally not feed on, paralyses and eventual death.
The commissioner warned anybody affected by dog bite to wash the site of the bite thoroughly with soap in running water and immediately seek medical attention.
"By the time the symptoms of rabies show forth in man, especially after a dog bite, death is almost inevitable, because there is no cure," he said.
Ajiboso disclosed that the state government would henceforth clampdown on stray dogs within the metropolis, as well as other animals in a bid to protect lives.
He appealed to residents to take any wild dog roaming the streets and suspected of having rabies, to the nearest local veterinary clinic for thorough examination instead of killing it in order to certify its state of health.
"If rabies is suspected, the veterinarian in charge is by law required to inform the Director of Veterinary Services, while the person bitten should wash the site with soap in running water and thereafter seek immediate medical attention," he stated.
Ajiboso warned all pet owners to be responsible pet owners by making sure that their pet animals were not allowed to stray, as well as carry out all necessary vaccination programmes, saying that government would no longer tolerate stray animals, especially dogs, attacking people and causing havoc.

—Kazeem Ugbodaga
Load more