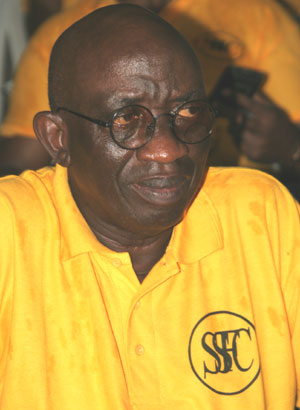 Unknowingly, the dearth of true sportsmen and women is the main reason honest leaders never emerge. The few true and dedicated sportspeople are either dead or have given up the fight because they have been largely outnumbered by the other group.
Hence, any modern leader that gets involved in the promotion of sports honestly, is sowing the seed of national unity.  His/her reign will remain indelible in the minds of the people.  The late Premier of the old Western Region of Nigeria, Chief Obafemi Awolowo, comes to mind.
Who is a true sportsman? A true sportsman is tolerant, considerate, moderate and enthusiastic.  He plays the game according to the rules and is never despondent at a loss for there will be another competition in future.  In victory, he rejoices and consoles the loser because it could go the other way next time.
The readers will appreciate what I mean here if he or she has ever been in the final of a competition and has tasted both sides of victory and defeat. And thus, it is in the search of a true sportsman/woman-a great leader of tomorrow that brings to mind the need for "sponsors" of tomorrow's sports people through sporting activities.
SCHOOLS SPORTS
In the past, alongside academic prowess, physical education in schools was taken seriously and so schools sports was largely encouraged to the delight of school children, teachers and teeming supporters that included parents and guardians.  Inter-house sports competitions were regular features from where representatives were selected to compete against other schools for healthy rivalry.  Still relevant today is the great AIONIAN  sports competitions among schools in the old Western Region of Nigeria.  The competition that discovered many outstanding talents in that part of the country.
Schools sports was just not restricted to secondary schools as teachers training colleges were actively involved.  You can see why the spirit of sports was alive everywhere.  Schools sports started right from the primary school days and was quite evident during the 'old' Empire days celebrations before Independence.
No one cares about sports during independence celebrations now.  Even in our secondary school days, the idea of junior teams playing before the school team was a developmental mentality.  It worked so well that most schools never had a shortfall of standard players in the school team every year. The "catch them young" slogan was part of school developmental programme.  Today, most schools do not partake in  schools sports.
Gradually, boys and girls clubs sprung up everywhere and got involved in competitive sports without financial gains but for mere glory of winning and carting home  precious certificates.  I do not know anywhere in the country where such clubs still exist now.  History will show that a lot of our sportsmen and women who later became heroes and heroines emerged from these clubs.
Back to schools sports, it is the duty of the various sports councils to train and re-train the gamesmasters and gamesmistresses in order to enhance the coaching abilities of these teachers at the grassroots level.  It is the duty of the states sports councils to also organise competitions where talents would be discovered to showcase the great potential that abound in each state.  It is noteworthy here too that local government councils should be sincerely involved in youth development by encouraging sports activities throughout the year in their areas.
After all, sports is a leveller.  It is also a way of promoting healthy citizenry.  The slogan "Sports is wealth" explains the need for everyone to get involved in one form of sporting activity or the other.  Bringing the idea nearer home, one can say confidently, that sports is for good health.  I believe healthy people will create more wealth and a happier citizenry and outlook.
The chairmen of the local councils can donate trophies and sponsor competitions among schools, clubs and wards in each of their domains to the delight of the electorates.  In fact, farmers, meat sellers, artisans were actively involved in sports in the past.  Is it not true that the devil will always have a tool for the lazy or jobless hand to perpetrate evil.  On the other hand sports can promote the youth to greater heights with outstanding laurels.  Competitive sports is surely a way of life where competitors earn a living besides their main professional callings.  Those in this category are known as amateur sportsmen and women.  Apart from these active competitors, the larger community-spectators have their regular source of relaxation.
PROFESSIONAL SPORTS
Today, professional sports are almost turning most children away from school because of the financial gains they derive from it.  Name any sport and you will find those who have and are still making good money and name from participation.  I do not want to be particular about any game since Nigerians, male and female, are gainfully employed through sound professional sports- Football, Athletics, Boxing, Table-tennis, Lawn Tennis, Wrestling, Weightlifting etc.
The truth remains, however, that these gainfully employed professionals are products of early discovery and careful nurturing of talents.  We see them as national heroes and heroines.  Their parents and states of origin are quite proud of them.  Take a look at those who have been given national honours and you'll find an appreciable long list of sportsmen and women.  And in the true spirit of sports, they always pay back something to see that younger ones in their areas of birth are encouraged to achieve greater honours.
RECREATIONAL SPORTS
Recreational sports used to be a common thing in the past as most towns in the old Western Region of Nigeria especially engaged in it.  In fact, there were recreation centres (halls) throughout the country.  This was a legacy left behind by the white administrators before independence in 1960.  Most youngsters who later became national stars in their specific sports took off from this base as ball boys and errand boys.
Today they are extinct. The recreation centres have been either pulled down for other uses or have crumbled because of total neglect.  It is a sad memory of a great meeting point for all sports lovers-young and old then.  How I wish the past can be brought back alongside the present opportunities. At a point in the history of the world after the dreaded world wars, great nations resorted to sports as a measure for superiority.  And if you take a second look at these great nations today, sports is the major tools for unity and good governance.  Most Head-of-States always use involvement in sports to catch valuable votes and in fact the catch-the-votes campaign is incomplete without devotion to sports growth.
CONCLUSION
It is necessary at this point for me to call for the resuscitation of the Zonal Headquarters that brought out the best sportsmen and women at states levels in the past. It is also of great importance for the media to educate the populace that sports is not a do-or-die matter.  It is pertinent to remind all and sundry that one cannot win all the time.  Sports are to make friends and not to create enmity.  That is the true part of development that all STATE governments in Nigeria should follow to develop and really sustain sports through the engagement of the young and old. God Bless Nigeria.
•Daniel Ajibode, a former international soccer player for Nigeria in the 60s, is a board member of the Lagos State Sports Council, LSSC.
Load more