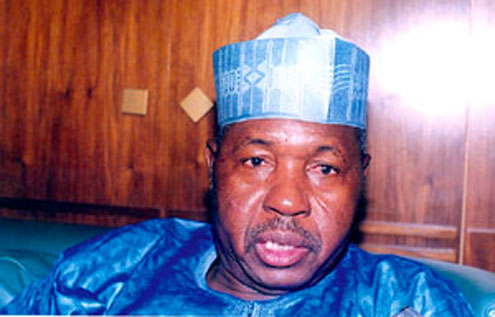 Former Speaker of the House of Representatives, Alhaji Aminu Masari, today in Katsina dumped the People's Democratic Party, PDP, and embraced the Congress for Progressive Change, CPC.
He was received into the party by the sole presidential candidate of CPC, Gen Muhammadu Buhari (retd) at the party's secretariat in Katsina this afternoon, along with thousands of supporters.
During the event, Buhari reiterated the need for the Nigerian masses to defend their votes in the 2011 general elections.
Masari was accepted by Buhari alongside other CPC stakeholders in Katsina and at the national level.
Buhari reaffirmed his intention to occupy Aso Rock in 2011, adding that the time had come when the masses should take their destiny in their own hands.
Masari, a former PDP chieftain, while speaking at the event, denounced his membership of PDP, and proclaimed his loyalty to Buhari's CPC.
It was a joyous moment for the CPC when Masari mounted the podium in company of his supporters and followers from the PDP.
His speech was apt and direct. He said he left PDP in order to join hands with progressives of like minds to move the country forward.
He recalled all he did to bring his former party back to reckoning, saying "we tried our best. We were part of the PDP Reform Group. But at the end, we had no choice than to leave and look for a platform where we can conveniently move this country forward."
According to Masari, his intention to join the CPC was not primarily to seek for elective position.
"I joined the CPC today because I have been part of the history of this country; and I believe that from here, we can begin to make things work again," he said.
He further stated that, "this is not a question of looking for elective position. It is a sacrifice for our dear country. It is what we can do; and I believe that we really can."
Second Republic Deputy Senate president, Mamman Abubakar Dan Musa described the CPC gathering in Katsina as a historic event that would have serious impact on the political landscape of Nigeria.
"I can only tell you that I am impressed. This is just the beginning," he told P.M.NEWS.
MADUABUCHI NMERIBEH/Katsina
Load more